What is a Kneecap?
Kneecap is a common name for a bone located in the front of the knee joint, known as patella. Patella is a flat triangular bone which covers and protects the knee joint. It helps us in extending our leg by enhancing leverage on the thigh bone.
Apart from the anatomical kneecap, there is another type which is widely used for bracing the knee – also known as knee braces. These are either used on a painful knee, an injured knee or for preventing knee injuries – for instance, during sports.
Kneecaps (or knee braces) are used in orthopedics for supporting a knee joint and to relieve pain and inflammation.
Various types of knee braces are available for different knee conditions and for prevention.
Kneecap Injuries
The most common kneecap injuries are fractures and dislocations. Fractures can happen due to a fall or trauma, during an accident or a sport. A patella can endure various types of fractures, such as stable, displaced, comminuted or open fracture.
Common symptoms of a patellar fracture are pain while straightening or extending of the knee; swelling on the surface of the knee; and bruising.3
A patella can be dislocated causing a complete or partial change in position of the bone from its anatomical position. A dislocation of patella can either occur from an abnormality in the structure of a knee joint or due to trauma.
Other common conditions of patella are:
Patellar Tendonitis – inflammation or irritation of patellar tendon.
Patellar Chondromalacia – softening of the cartilage on the undersurface of patella.
Patellar Subluxation – partial dislocation of patella.
Diagnosing a Kneecap Injury
Diagnosis is mainly based on physical examination and radiographic reports. X-rays help in confirming fractures, whereas, a thorough physical examination will help ascertain the type of injury to the knee joint and whether blood has pooled within the joint space.
Treatment
In the case of fractures, if fractured pieces of the bone are displaced, a surgical treatment is required.
Whereas, if the fractured pieces remain at their anatomical positions, application of a cast or splint and immobilization of the joint facilitates bone healing. However, application of weight or pressure on the joint may not be possible immediately, till the bone heals.
In the case of a dislocated patella, it has to be repositioned by a surgeon. Often, such procedures require the use of analgesics. If dislocation of a patella becomes recurrent, a surgical procedure may be recommended for permanent treatment.
If blood has pooled in the joint space due to injury, the surgeon may need to drain it out for pain relief.
What is a Knee Cap Product
Knee injuries and knee conditions are more common which can cause pain, difficulty walking and can have a big impact on your life. As part of your knee treatment plan, you might be recommended to wear knee cap or knee support such as brace, strap, or sleeve regularly as well as when you exercise. Knee support products are made from combinations of metal, foam, plastic, or elastic material and straps. They come in many sizes, colors, and designs.
About Knee Braces
As we discussed earlier, knee braces are used to support an injured knee and prevent severe injuries.
The types of knee braces available are:
Functional – for supporting injured knees.
Rehabilitative – for rehabilitation of injured knees and to facilitate controlled motion during healing.
Patellofemoral – for stabilizing the patella and to relieve anterior knee pain.
Prophylactic – for prevention of severe knee injuries.
Another variety of a knee brace is a knee sleeve. Knee sleeves are used during exercises such as weight lifting, to prevent friction between the knee bones.
When to Wear A Knee Brace
Your doctor may recommend you to use a knee brace in conditions, such as:
MCL tear – an injury to the medial cruciate ligament.
LCL tear – an injury to the lateral cruciate ligament.
PCL tear – an injury to the posterior cruciate ligament
Arthritis – inflammation of the joints causing stiffness.
Chondromalacia Patella – a condition in which the cartilage on the undersurface of patella softens.
Patellofemoral dislocations or subluxation – partial or complete dislocation of patella from the patellofemoral groove (its anatomical position).

Swollen knee or Knee pain

To prevent injuries during high contact sports where there is a higher likelihood of knee injury

When you have abnormal movement in your knee following an injury

To improve muscle control in your knee 

Rehabilitative purposes, for example, following an ACL injury

The brace will provide slow, limited movement allowing the patient to gradually regain their range of motion.

For arthritis sufferers as it can aid in reducing pain and inflammation.

Your doctor can help you decide if it's necessary.
Various knee braces are recommended in the different conditions:
| | |
| --- | --- |
| Condition | Type of knee brace |
| Uni-compartmental (medial compartment) osteoarthritis of the knee | Unloader (valgus) knee brace |
| Varus malalignment (malaligned knees, such as bowleg or knock-knees) | Unloader (valgus) knee brace |
| Patellofemoral pain syndrome (PFPS) – pain in the front of the knee | Anterior knee pain brace |
| Acute (pre-surgical) management of quadriceps rupture, patellar tendon rupture, medial collateral ligament rupture, patellar fracture, dislocation, and acute traumatic knee injuries | Knee immobilizer |
| Prevention of severe knee injuries during contact sports | Prophylactic knee brace |
| Ligament deficient knee and post-surgical repair | Functional knee brace |
| For post-operative rehabilitation | Rehabilitative knee brace |
How Do Knee Caps Work?
Kneecaps can help in reducing swelling by providing consistent compression while stabilizing the joint to lessen irritation. Knee cap supports the knee by providing rigidity and they can change the angle of the knee. They can also realign the knee by physically guiding the knee joint to stop instability and to make sure that knee moves normally. Knee cap limits the amount of stress applied to your joint. Wearing knee caps all the time can lead to muscle atrophy. So if you have knee conditions, make sure that you take doctor suggestion of how to use, when to use and what type of support you need.
How to select a Knee Brace?
Knee braces need be selected based on your knee problem. While selecting a knee brace you must check the following aspects:
Type: Knee braces can be of various types, for instance, stabilizers, hinges, supports, and sleeves. You need to be sure about the type of knee brace recommended for you before purchasing.
Style: Knee braces can be either worn by slipping on or wrapping around one's knees. These are the two different styles of a knee brace you can choose from.
Size: You can determine the size of a knee brace that fits you based on the sizing chart on the product. In case of a doubt between two sizes, you should choose the larger one.
Certain manufacturers provide knee braces and knee sleeves with additional features like better sweat absorption, anti-allergic, better aesthetics, bi-layered – for retention of body heat, and with uniform compression on the joint.
How to use a Knee Brace?
While putting on a knee brace you will need to be seated on a chair. In case your brace has straps or hinges, you should fasten them carefully before you stand on your feet to check whether you are comfortable while walking.
Initially, your doctor and the manufacturer or retailer can guide you towards the correct way to position and fasten a knee brace. You will be able to wear it without assistance after a few trials.
Wear and tear of a knee brace is common on prolonged use. A worn-out knee brace may not provide the optimum stability or compression, hence it is prudent to replace a knee brace once damaged.
Precautions When Using Knee Cap
You'll want to have compression, a feeling of tightness in your knee when using a knee brace. It should feel comfortable and provide a level of support necessary based on your individualized needs. However, if the brace is uncomfortably tight and you're losing circulation, it's time to loosen the straps or choose a larger sized brace. Rigid braces provide more support and feel rigid, while compression sleeves allow for more movement but less support.
Precautions When Buying a  Knee Cap
Hinged
knee supports
Often used for post-surgery, ACL, MCL or PCL injuries for patients and athletes who need a higher level of protection and support. It protects patients or athlete's knee, delivers support and stability to heal quickly. Hinges can prevent hyperextension of the knee and offers protection of the ACL, and other ligament injuries. These are bulky, can be used for athletes who don't want to lose speed by weighing themselves down with a heavy brace.
These knee cap products come in two forms: rigid and soft hinged. Soft hinged knee braces provide less support than rigid ones.
Your doctor may recommend a hinged knee brace after surgery, but then another type of brace when you've reached a certain point in the healing process. 
E.g, Elastic Knee support, Noova adjustable knee support, Rom Knee brace, OBLIQ hinged knee support with dual stabilizers open kneecap patella, Tynor neoprene hinged knee supports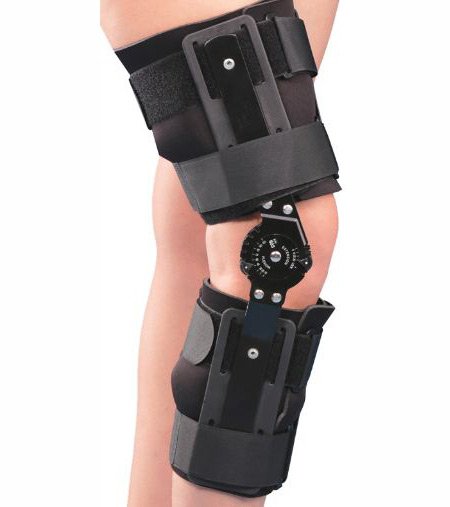 Compression/Sleeves
Mild to moderate chronic knee pain and arthritis can be minimized by using sleeves and compression braces. These knee caps redistribute the weight-bearing load and improve the performance during training and sports, helps decrease pain from day-to-day movement. These braces are comfortable and can fit under clothing. These come in different sizes
Eg., Privfit Unisex protective compression kneecap, Joyfit Knee compression sleeve, Tynor Stretchable Knee cap, Knee cap, knee cap comfeel, healthgenie Knee cap, Tynor bilayered knee cap comfeel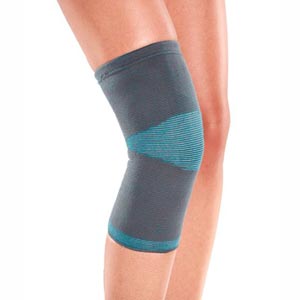 Wraparounds
Wraparound supports or dual wrap braces provide more support than sleeves. Work well for athletes experiencing mild to moderate knee pain, patellar instabilities and dislocation. Simple and easy to put on and take off, allow you to customize the fit for your size and provides comfort and knee protection. Wrap-style bracing can be worn during activity or while training allowing you to focus on your performance as they are not bulky like hinged braces. 
Eg., Mueller wraparound knee support with adjustable straps, functional knee support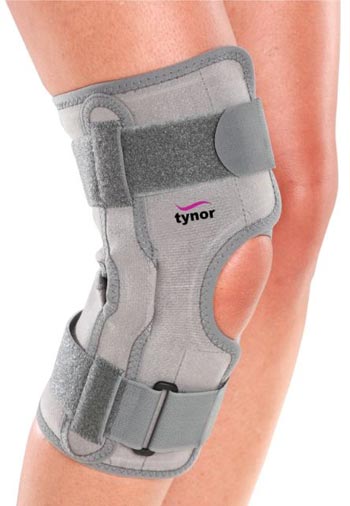 Bands/Straps
Help ease runner's knee pain,  jumper's knee (patellar tendonitis) pain or acute knee pain with strap and band bracing. These are designed to apply a comfortable, effective pressure on the knee to help reduce pain. Simple to wear (fits under clothing), and easy to put on and take off. These can be worn during daily activities and sports.
Eg., Patella Strap Knee Brace Support for Arthritis, ACL, Running, Basketball, Meniscus Tear, Sports, Athletic- Best Knee Brace for Hiking, Soccer, Volleyball & Squats.

Patellar support,

IPOW 2 Pack Knee Pain Relief & Patella Stabilizer Knee Strap Brace Support for Hiking, Soccer, Basketball, Running, Jumpers Knee, Tennis, Tendonitis, Volleyball & Squats, Black.

PrettyCare Knee Support Patella Strap (Unique Silicon Material with 2 Pack by Fully Adjustable Tendon Brace Band Pad – Pain Relief for Running, Arthritis, Tennis, Basketball, Tendonitis

Mcdavid Knee Support Strap, Pain Relief from Patellar Tendon Support, Tendonitis, Jumpers Knee Strap, Runners Knee, Adjustable for Men & Women

Sleeve Stars Patella Strap for Knee Pain Relief – Knee Support for Arthritis, Osgood Schlatter, Runners Knee, Jumpers Knee, Tendonitis & Volleyball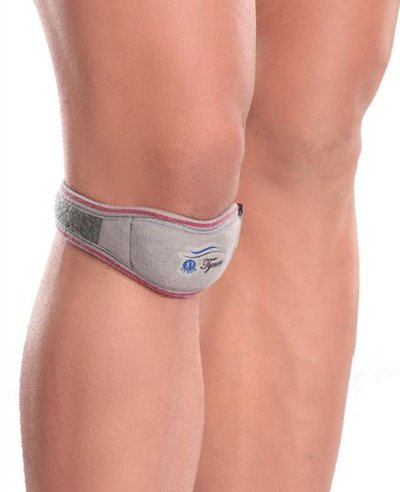 Custom Knee Braces
Measurements of your knee will be taken and a custom-made brace will be created for you according to your size. These are available for contact and non-contact sports.
Closed and Open Kneecap Patella Braces 
Open patella braces have a hole in the center of the brace which allows relief of knee pressure and extra kneecap support with proper movement and tracking

Eg., Xfinity fitness black adjustable knee support,  knee cap open patella, and cheetah hinged knee brace open patella
Elastic Knee Support with Patellar Opening
Closed patella has no holes, offer compression at the kneecap with the same pressure as the rest of the knee and additional support.

Take medical advice from your doctor if you are unsure which is a better option for your needs. 

Eg.,

Pro-Tec Athletics Closed Patella Knee Sleeve, knee cap with patellar ring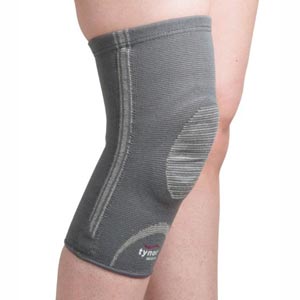 LEVELS OF PROTECTION
When choosing a knee brace, look for levels of protection ranging from 1 to 3
Level 1 Brace
Offer the least support

most flexible

Eg., Sleeves

It is best used for pain relief and mild to moderate support when remaining fully active.
Level 2 Brace
Offer more protection than level 1,

They aren't as flexible but still, allow for a range of movement.

Eg., Wraparound braces and knee straps are good examples.

Used for mild to moderate knee support for pain relief associated with ligament instabilities and tendonitis.
Level 3 Brace
Offers most support but limited movement.

This type of brace is generally heavier.

Eg., hinged knee brace

It is best used for recovering from surgery when knee movement should be limited to prevent re-injuring yourself.
Level 3+
Offer maximum protection.

This level is best for aiding in pain relief and support for moderate to major instabilities and conditions.
[contact-form-7 404 "Not Found"]
Search Tags: knee cap, tynor knee cap, knee cap online, knee cap uses, hinged knee cap
Dr. Kaleem Mohammed graduated as a Bachelor of Physiotherapy in 2014 from Deccan College of Physiotherapy, affiliated to Dr. N.T.R. University of Health Sciences, Vijayawada, India. Dr. Kaleem is an expert at handling physiotherapy needs of patients suffering from orthopedic and spinal conditions and post-surgery rehabilitation. Dr. Kaleem is associated with HealthClues since its inception where he facilitates diagnosis and advanced consultation with senior doctors. He is also a medical researcher and prolific writer who loves sharing insightful commentaries and useful tips to educate the patient community about fitness, treatment options, and post-treatment recovery.
Reviews
0

out of

5

based on

0

reviews.
Overall rating: