Are you experiencing pain or sensitivity while having ice cream or hot coffee or while eating or drinking something hot, cold, sweet or acidic? If so, you may have sensitive teeth. Teeth sensitivity is common which can come and go over time. Breathing in cold air will be painful for people with extreme sensitivity
Why Does Tooth Sensitivity Happen?
Healthy teeth have a layer called enamel that protects the crown part of your teeth which is above the gum line. Below the gum line, a soft layer called cementum protects the root part of the teeth. Underneath both the enamel and the cementum there is a layer called dentin.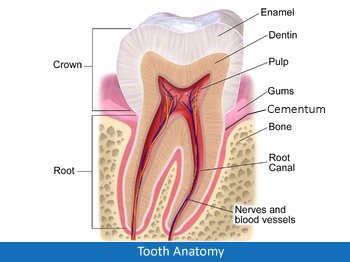 The dentin contains a large number of pores or tubes called dentinal tubules which contain nerve endings that run from outside of the tooth to the nerve in the center of the tooth. When the cementum and enamel wear off and exposes the dentin, these tubes allow heat and cold or acidic or sticky foods to reach the nerves and cells inside the tooth that results in hypersensitivity.
What Causes Tooth Sensitivity
Dentin exposure can occur due to various factors. Some of the common reasons are mentioned below
Vigorous improper tooth brushing causes loss of gum tissue (gum recession) and cementum exposing dentin part of the root
Brushing with a very abrasive toothpaste, vigorous improper brushing, Using hard bristle toothbrush and brushing more than 3 times a day could result in loss of enamel and exposes dentin
Excessive flossing or improper use of other interproximal cleaning devices;
Gum recession may occur due to aging or gum disease
Fractured tooth or chipped off tooth may expose dentin
An Acidic diet such as citrus, pickles and acidic drinks may cause tooth wear (Erosion) and dissolve the tooth surface exposing the dentin
Teeth grinding habit while sleeping may result in loss of enamel
Some dental treatments such as teeth whitening (Bleaching) may cause sensitivity
Worn fillings
Read about some medications used in dental health conditions
Can I Prevent Tooth Sensitivity?
Yes, Tooth sensitivity can be reduced by maintaining good oral hygiene. Proper brushing and flossing as recommended by your dentist and using a low abrasive toothpaste and a very soft bristle toothbrush help reduce enamel wear and gum recession thereby reducing chances of getting tooth sensitivity.
Avoid
Using large amounts of toothpaste or reapplying it during brushing
Using medium- or hard-bristle toothbrush
Brushing teeth immediately after having acidic foods or drinks
Excessive flossing or improper use of other interproximal cleaning devices
Using toothpicks inappropriately
Sensitive teeth cannot be ignored as it can be painful to brush them. Poor brushing because of pain may increase the chances of getting tooth decay and gum disease
What Can I Do About It?
The type of treatment depends on what is causing the sensitivity – A Dental Profession will help you with this. Your dentist will suggest any one of the below treatments depending on the cause of sensitivity
Desensitizing toothpaste which is specially formulated to reduce sensitivity. This paste contains compounds which block transmission of sensations to the nerve of the tooth by clogging up the tiny tubules which go to the nerve. It requires several applications.
High fluoride toothpaste specially formulated to make your teeth less sensitive and provides extra protection against decay.
Application of fluoride varnish on the sensitive areas strengthens tooth enamel and reduces the transmission of sensations
Dental filling in case of chipped off tooth or tooth fracture that involves loss of enamel
Placement of Crown or inlay to correct a flaw or decay that results in sensitivity
Replacement of damaged enamel with Dental veneers which are thin shells of porcelain or composite resin that are custom made to fit over your teeth, providing a natural, attractive look.
Surgical gum graft in case of loss of gum from the root will protect the root and reduce sensitivity
Your dentist may recommend root canal treatment if the sensitivity is severe and cannot be treated by other means
References
Search queries for Tooth Sensitivity
Dentin Hypersensitivity, Teeth Sensitivity, Sensitive Tooth, dentin sensitivity, Enamel loss, Gum loss, Sensitivity, Root Sensitivity
Dr. Alekhya is an experienced dental surgeon with over five years of clinical experience in prestigious dental clinics in Hyderabad, India. She graduated as a Bachelor of Dental Surgery (BDS) from MNR Dental College in 2012.
Dr. Alekhya has also been involved with notable campaigns and health awareness programs. She is presently employed with Immertive where she supervises the development of virtual reality and augmented reality based applications for training healthcare professionals. In addition to following her career, Dr. Alekhya is very passionate about sharing her knowledge as a guest contributor on various health-related publications including HealthClues.
Reviews
0

out of

5

based on

0

reviews.
Overall rating: