Pneumonia refers to infection of one or both lungs causing inflammation of the air sacs (alveoli). This condition causes the air sacs to get filled with pus or fluid resulting in chronic productive cough, fever, and shortness of breath.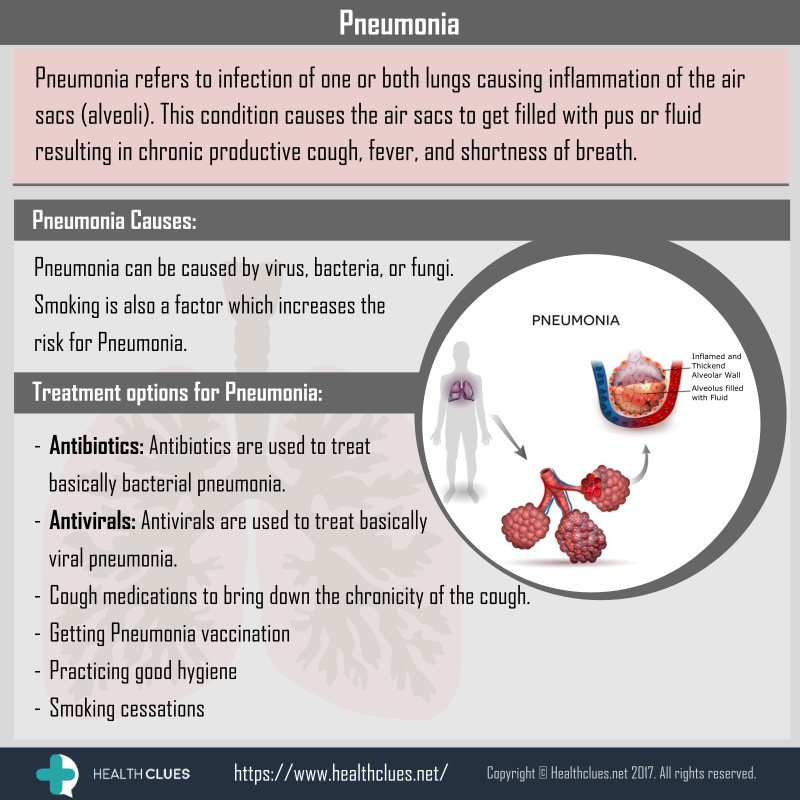 Pneumonia Causes
Pneumonia can be caused by virus, bacteria, or fungi. Smoking is also a factor which increases the risk for Pneumonia.
Protective Sports Gear – Attractive Deals!
Who Is At Risk Of Developing Pneumonia?
Infants and children younger than 2 years of age
People greater than 70 years of age
Symptoms of Pneumonia
Some of the Symptoms of Pneumonia are:
Fever
Productive cough producing a sticky fluid
Excessive sweating
Chills
Low body temperature
Shortness of breath
Chest pain with coughing
Fatigue
Nausea
Vomiting
Diarrhea
Headaches
Muscle pains
Treatment Options for Pneumonia
Antibiotics: Antibiotics are used to treat basicallyion bacterial pneumonia.
Antivirals: Antivirals are used to treat basically viral pneumonia.
Cough medications to bring down the chronicity of the cough.
Getting Pneumonia vaccination
Practicing good hygiene
Smoking cessations
If for some reason an experienced doctor is not available around you, then you can contact us here.
Leave a Review
How did you find the information presented in this article? Would you like us to add any other information? Help us improve by providing your rating and review comments. Thank you in advance!
Overall rating: