Surgery is sometimes necessary for a range of health conditions. Research shows that appropriate physiotherapy before and after your surgery can help speed up the healing process. Physical therapy is most often used after orthopedic surgery, such as knee and hip surgeries.
Physical therapy can help you get moving after your surgery, at later stages Physiotherapy can assist you with an appropriate rehabilitation exercise program that contributes to restoring movement and strength. [1]
Physiotherapy after post-operative orthopedic conditions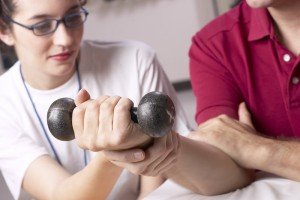 After total hip or knee replacement surgery physiotherapist teach the patient to:
Reduction in pain through various modalities
Endurance exercises to develop and extend a range of motion, which keep joints mobile
Exercises to strengthen muscles
Posture, balance and coordination training
Gait analysis and training
Strategies for pain reduction and Explains do's and don'ts after the surgery. Physiotherapy teaches the patient how to bend and sit to avoid damaging the new hip or knee.[1]
[contact-form-7 404 "Not Found"]
Post-surgical physical therapy in neurological conditions
Neuro Physiotherapy (Neurological Rehabilitation) a discipline focused on working with individuals who have a neurological disorder or disease. These include stroke, Alzheimer's disease, brain injury, cerebral palsy, multiple sclerosis, Parkinson's disease, and spinal cord injury. Common ailments of patients with neurological disorders include stroke (paralysis), vision impairment, poor balance, inability to ambulate, and loss of functional independence. Physical therapists help the patient to improve his condition and regain complete mobility.[1]
A neurological physical therapist specializing in the assessment and treatment of individuals with movement or functional problems due to injury or illness to the nervous system. Physical therapists specializing in neurology work with a broad range of conditions, both adults, and children include:
Brain injuries that results from trauma
polyneuropathy such as Guillain-Barre syndrome (GBS )
Co-ordination
Parkinson disease
Pediatric conditions such as cerebral OR palsy spina bifida
Balance Deficits
Physiotherapy after cardiac surgery
Lung complications during postoperative cardiac surgery are frequently highlighting atelectasis and pneumonia.  Physiotherapy has a significant role in the treatment of complications. The principal aims of the physiotherapist in cardiac surgery are the prevention of pulmonary complications, such as retention of secretions, atelectasis (incomplete expansion) and pneumonia, to try to prevent deep vein thrombosis (DVT), and to keep full mobility of all joints.[1]
Physiotherapy in cancer
Physiotherapy plays an important role in the post-surgery rehabilitation of patients undergoing treatment for cancer. Physical therapy can offer support to prepare a patient, both physically and mentally for the treatment ahead. Through which discussions with a patient to educate about possible physical consequences of their diagnosis and treatment, along with the information or treatment to reduce the impact of these consequences or providing advice exercise to encourage the patient to self-manage certain side effects treatment and lessen their impact on the individual.
chemotherapy, surgery, and radiotherapy can all have an effect on the whole body especially, reduce muscle strength, stiff joints/muscles, changes in balance, pain, reduction in exercise tolerance and changes in quality of life
Through physiotherapy reduce your length of time in the hospital and enabling you to return to your usual activities more quickly after treatment. [1]
Post-operative respiratory physiotherapy
Postoperative physiotherapy is of great importance in pre-ventilation and treatment of respiratory complications of surgery, in general, abdominal and thoracic surgeries. Chest PT (physiotherapy) is effective in the prevention and treatment of pulmonary complications after major abdominal and thoracic surgery. Physiotherapists recognized as playing an important role in the management of patients with respiratory disease. They use a variety of strategies aimed at reducing the work of breathing, improve ventilation, increasing function and allows relief of breathlessness. Chest physiotherapy may include positioning to maximize ventilation, retention management secretion. Breathing exercises useful to improve strength and function of the respiratory muscles. [2]
Post-operative physiotherapy in bariatric surgery
Many evidence suggested that physical therapy can improve weight loss and other outcomes following bariatric surgery. After successful bariatric surgery, patient regularly takes part in two main activities in their life:
Follows an appropriate bariatric diet plan to maintain healthy weight
Follows a consistent and progressive physical therapy routine for following reasons:
To increase life expectancy
To reduce abdominal fat
To stronger heart, muscles, bones, and lungs
To increase good cholesterol and reduce bad cholesterol
To improve blood sugar control
To improve insulin control
To reduce risk of heart disease
To lower blood pressure
To reduce triglycerides
To reduce risk of cancer
For more energy[1]
Have a question?
Feel free to ask us for any help or information here!
References
Physiotherapy in the perioperative period, Ambrosino, Nicolino; Gabbrielli, Luciano  Best Practice & Research Clinical Anaesthesiology , Volume 24 (2) – Jun 1, 2010
Chest physiotherapy for the surgical patient, Stiller, K. R.; Munday, R. M. British Journal of Surgery , Volume 79 (8) – Aug 1, 1992
Dr. Kaleem Mohammed graduated as a Bachelor of Physiotherapy in 2014 from Deccan College of Physiotherapy, affiliated to Dr. N.T.R. University of Health Sciences, Vijayawada, India. Dr. Kaleem is an expert at handling physiotherapy needs of patients suffering from orthopedic and spinal conditions and post-surgery rehabilitation. Dr. Kaleem is associated with HealthClues since its inception where he facilitates diagnosis and advanced consultation with senior doctors. He is also a medical researcher and prolific writer who loves sharing insightful commentaries and useful tips to educate the patient community about fitness, treatment options, and post-treatment recovery.
Reviews
0

out of

5

based on

0

reviews.
Overall rating: