Choosing a hospital may seem a trying task. In most instances, people tend to rely on their doctors to decide on a hospital before a planned surgery. Not to mention, in an emergency one doesn't have a choice but to rush to the nearest medical facility. But, it is absolutely advisable to interrogate about the hospital prior to planning a surgery.
Hospital Selection Criteria
A majority of surgeons in India regularly conduct surgeries in a number of hospitals in their city. Often, they provide patients with all options during the pre-surgical consultation. Moreover, various factors influence such decisions, such as proximity or accessibility, expenditure, facilities in terms of medical safety, and coverage by healthcare insurance plan with respect to the hospital concerned.
However, sometimes we tend to overlook certain important aspects which should be essentially considered before choosing a hospital, which are:
Whether the hospital provides multispecialty care.
It's standards with regard to hygiene/Infection control.
Provision of post-surgical rehabilitation facilities.
Patient reviews, on specific surgical procedure in question.
Whether the hospital is abreast with newer technologies and quality of care.
Doctors' opinion regarding the hospital.
Patients' reviews with respect to hospital staff courtesy.
In this article, we will discuss the well-renowned Peerless Hospital in Kolkata.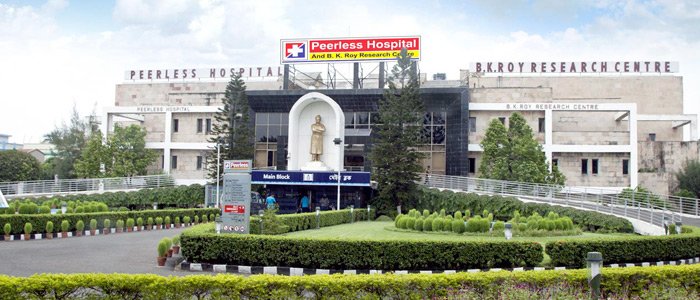 Peerless Hospital and B.K. Roy Research Centre is a 400 bedded multi-specialty hospital in eastern India, which was established more than two decades ago. This prestigious hospital is renowned for its updated amenities and infrastructure and offers advanced medical care for a spectrum of medical conditions and ailments. The hospital also prides itself for harboring a syndicate of best physicians and surgeons. Furthermore, the institution is accredited with International Organization of standardization (ISO) and National Accreditation Board for Hospitals and Healthcare Providers (NABH).
Peerless Hospital is acclaimed for its Cardiology and Cardio Thoracic treatments. Various routine procedures carried out in this department are cardiac pacing, coronary and peripheral angiographies and angioplasties, embolotherapies, as well as open heart surgeries for coronary artery diseases. In addition, the surgeons in this hospital are adept in treating patients having congenital and acquired valvular heart diseases, and in conducting vascular and thoracic surgeries.
The hospital is also distinguished for its orthopedic replacement surgeries and apart from rendering therapeutic services, its academic division provides training for orthopedic surgeons. The Orthopedic department of this hospital is eminent in complex surgical procedures, for instance, reconstructive surgery of long bones and revision surgery after joint replacement, with consistent success through decades. Besides, the hospital is also well-known as a hub for spinal surgeries, trauma care, and plastic surgery.
Over the years, Peerless hospital has also gathered prominent fame in gastroenterological treatments. The hospital was the first to constitute special departments, such as Liver, IBD and Pancreatic Clinics; acknowledging and facilitating specialized care essential for specific organs. Furthermore, management and administrative authorities of this esteemed organization have ensured that all its sub-divisions are instated with the most advanced medical equipment, in order to aid doctors in imparting optimal care.
Additionally, the hospital also has comprehensive routine health check-up packages, which include cardiac, endocrine, and kidney function tests for senior citizens, adults, and children. This hospital also provides post-surgical follow-up facilities to patients.
Apart from providing healthcare services, this hospital also conducts courses offering Masters in Emergency Management in association with the prestigious George Washington University; Master of Hospital Administration; DNB and BPT. While the Peerless Hospital College of Nursing offers Post Basic BSc Nursing, Generic BSc Nursing, and GNM courses.
Its reputed institution also provides training in various fields. The National Board of Examinations (NBE-New Delhi) has accredited Peerless Hospital & B. K. Roy Research Centre for Diplomate of National Board (DNB) training programme. Presently, the hospital holds accreditation for the following:
Orthopedics
Gastroenterology
General Medicine
General Surgery
Pediatrics
Paramedical, Nursing and Hospital administration 1
Peerless Hospital is designated as an Overseas Examination Centre for MRCP (Ireland) and the Indo-Australian Fellowship in Critical Care Medicine. It is the second hospital in India to partner with the Royal College of Physicians (RCP) London, and offer Medical Training Initiative (MTI) Scheme which offers an opportunity of undergoing two years clinical training and experience in the UK National Health Service (NHS) hospital Trusts for suitably qualified international medical graduates.
Adding a feather to its cap, the hospital has committed itself to research in a number of diverse medical fields and has built up a body of published work, which has consistently added value to prestigious scientific journals.1
Specialty Areas of Peerless Hospital
As mentioned earlier, Peerless hospital lives up to its reputation in retaining an advanced infrastructure and multispecialty care. Nonetheless, the hospital is often sought after for treatments of specific medical conditions or surgical procedures associated with certain organ systems, for instance, those related to the heart or concerning the departments of gastroenterology and critical care.
Critical Care
The Critical Care Department in Peerless Hospital comprises two full-time highly experienced consultants. Dr. Ajoy Krishna Sarkar is the Head of Department in Critical Care. He is renowned for his dedication and vast experience in his field.
Modular ICCU/ITU constitutes this department, which is equipped with a central monitoring system containing multi-parameter recording facilities; provision for 24-hour, in-house hemodialysis, peritoneal dialysis, plasmapheresis and ultrasound, and echocardiography; advanced hemodynamic monitoring system; and provision of isolated cabins with negative pressure gradient for infected patients.2
Gastroenterology
The Gastroenterology Department is one of the most popular segments of this hospital and harbors the most distinguished doctors in eastern India. This department is headed by Dr. Ashokananda Konar, who has acquired several years of experience in his field. Other acclaimed doctors in this department are:
Dr. J R Mahapatra
Dr. Sabyasachi Roy
Dr. Sujit Kar Purkayastha
On the other hand, the department of Gastro Surgery includes pre-eminent names, for instance:
Dr. Abir Mukherjee
Dr. Achintya Roy
Dr. Dipankar Sen Gupta
Dr. Sibnath Mandal
The gastroenterology department is further sub-divided, heeding the special care required for specific organ systems and ailments, vis:
Gastroenterology Critical Care
Liver Clinic
IBD Clinic
Pancreatic Clinic 3
Cardiology
The Cardiology Department in Peerless Hospital is headed by Dr. Anjan Lal Dutta, who is recognized for his great success in conservative methods treatment. Dr. Devanu Ghosh Roy and Dr. Pradyot Kumar Jha are a few other names that adorn the exceptional list of cardiologists visiting this hospital.
This department is furbished with cath lab, modular operation theatres, 30 bedded modular Intensive Coronary-Care Unit (ICCU), Intensive Therapy Unit (ITU), 6 bedded cardiothoracic and vascular surgery (CTVS) ITU, and cardiac step-down ward.
Open and closed heart surgeries, bypass surgeries, valve replacements and repair, total arterial grafting, and re-do cardiac surgeries are some of the routinely performed procedures in this department.
Expenses at a glance at Peerless Hospital
With rising healthcare prices in India and the lack of nationalized healthcare coverage, it is very important to inquire about the cost. Although the expenditure may not always exactly match the amount calculated prior to a hospital visit, it will provide a rough estimate so that you are prepared with finances.
Enlisted below are some of the expenditures that you may incur at Peerless Hospital.
| | |
| --- | --- |
| Service | Charges (in INR) |
| Doctor's Consultation Fee (OPD) | 600 |
| Knee Replacement Surgery – General Ward | 175,000; exclusive of the cost of implant |
| Hip Replacement Surgery – General Ward | 170,000; exclusive of the cost of implant |
| Heart valve Replacement Surgery – General Ward | 226,000; exclusive of the cost of valve |
| Angiography – General Ward | 11,000 |
| Angioplasty – General Ward | 60,000; exclusive of the cost of stent |
| Electromyography (EMG) | 1,200 |
| Colonoscopy | 5,000; inclusive of the cost of Biopsy |
| Gastroscopy | 2,500 |
| Laparoscopic Appendectomy – General Ward | 40,000 |
| Laparoscopic Sigmoidoscopy | 2,000 |
| Lap Band Surgery – General Ward | 210,000 |
| TURP Surgery– General Ward | 75,000 |
 Kindly note: The above information is not exact, but is meant as an approximate guide for patients.
Moreover, the choice of a hospital should depend on its credibility, rather than the expenses. Although finance is an important aspect to be considered before deciding on a hospital, a majority of patients in the cities also rely on their medical insurance companies for reimbursement. Peerless Hospital has healthcare insurance coverage, as well. However, it is prudent to enquire in detail regarding your individual insurance policy before a hospital admission.
It is but instinctive to arrive at the nearest medical care facility in case of an emergency. Peerless Hospital too, is easily commutable, both via public transport and with respect to connectivity through road.
Furthermore, the hospital also facilitates 24-hour ambulance service to aid in patient safety.
For more information, do get in touch with us through email at [email protected] or message us on WhatsApp at +91-9640378378, or submit your question below.
Have a question?
Submit a Review
How was your experience of visiting the hospital?
Previously Submitted Reviews
4.4

out of

5

based on

317

reviews.
Overall rating:
References
Reviews
0

out of

5

based on

0

reviews.
Overall rating: