Table of Contents
What is Pain O Soma?
Pain O Soma composition
History behind the Pain O Soma
Pain O Soma Indications
How does Pain O Soma work? (Pain O Soma Mechanism of Action)
How to Take Pain O Soma?
Common Pain O Soma Dose
When to Avoid Pain O Soma?
Pain O Soma Side Effects
Effects on organs
Warnings and Precautions
Reported Allergic Reactions
Effect of Pain O Soma on the menstrual cycle
Drug Interactions To Be Careful About
Food interactions of Pain O Soma
Interactions with laboratory procedures
How Long Does the Effect Stay?
Is Pain O Soma Addictive?
Can I have Pain O Soma with alcohol?
Can I have Pain O Soma When Pregnant?
Can I have Pain O Soma when feeding a baby?
Can I drive after taking Pain O Soma?
Effect of an overdose of Pain O Soma
Effect of using expired Pain O Soma
Effect of missing a dose of Pain O Soma
Storage requirements
Substitutes for Pain O Soma
References
What is Pain O Soma?
Pain O Soma is a muscle relaxant medication prescribed for short term treatment of pain caused due to sprains, strains, and muscle injuries. It is advised to use along with physical therapy, rest, and measures to relax muscles.
Pain O Soma composition
Carisoprodol is the key ingredient in the Pain O Soma tablets. Carisoprodol is also available as a generic form in 350mg and 250mg tablets. Carisoprodol belongs to the group of medicine called Carbamate. They are centrally acting musculoskeletal relaxants.
History behind the Pain O Soma
Pain O Soma was approved for medical use in the United States from 1959. Pain O Soma was categorized into Schedule IV drug as per the Controlled Substance Act since 2012 in the United States. This medicine was withdrawn in the European market due to its potentiality to drug abuse.
Pain O Soma Indications
Pain O Soma is mainly indicated to treat musculoskeletal pain caused due to strains, sprains, and injuries along with proper rest and physical therapy if needed.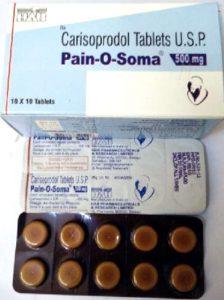 How does Pain O Soma work? (Pain O Soma Mechanism of Action)
The exact mechanism of Pain O Soma is not clinically established. But experts believe that it acts on the activity of nerves and electrical impulses in the brain and spinal cord. This medicine is categorized as centrally acting skeletal muscle relaxants which means it acts on nerve impulses but not directly works on muscles.
How to Take Pain O Soma?
Pain O Soma is available in tablet form and is used orally preferably 3 times a day and before bedtime with or without food. Take the medicine with a glass of pure water.
Common Pain O Soma Dose
The optimal prescribed dose of Pain O Soma is 250mg to 350mg three times a day or at bedtime not exceeding more than two to three weeks.
When to Avoid Pain O Soma?
Pain O Soma medicine is advised to avoid in patients having issues like a seizure, kidney dysfunction, liver dysfunction, and in children younger than 16 years.
Pain O Soma Side Effects
Besides intended benefits Pain O Soma may show some common side effects like dizziness, sleepiness, and headache. Addiction, allergic reactions, and seizures are some possible serious side effects.
Effects on organs
Pain O Soma is not known to show major impacts on any organs. But it may affect the liver and kidneys if used in larger doses for long periods.
Warnings and Precautions
Pain O Soma is not advised to use in patients younger than 16 years, and patients with severe liver and kidney impairments and with a history of seizures.
Not advised to take alcohol while using this medicine particularly in the case of patients with a known history of drug abuse or alcohol abuse and acute porphyria.
Advised to use with caution in patients like pregnant, nursing mothers, and elderly.
Reported Allergic Reactions
Chances of allergic reactions in the case of Pain O Soma are rare. But is it advised to consult your doctor or medical emergency department if any signs of allergic reactions like hives, itching, shallow breathing and swelling of face, lips, and throat are noticed.
Effect of Pain O Soma on the menstrual cycle
The effect of pain O Soma on menstrual cycles is not clinically established. Consult your doctor if you are using this medicine.
Pain O Soma Drug Interactions to Be Careful About
Pain O Soma may interact with other medications if used at the same time. Below mentioned are some medicine Pain O Soma may show possible drug interactions.
Alprazolam
Acrivastine
Methyldopa
Cyclobenzaprine
Clozapine
Thioridazine
Diazepam
Flurazepam
Gabapentin
Hydrocodone
Lorazepam
Morphine
Oxycodone
Pregabalin
Sodium Oxybate
Tapentadol
Temazepam
Zolpidem
Food interactions of Pain O Soma
There is no particular food restriction with regards to Pain O Soma. But alcohol consumption is not advised as it would trigger or aggravate the sedative effects and can lead to severe life-threatening issues like heavy sleepiness, shallow breathing, and coma.
Interactions with laboratory procedures
Limited data is available on the effects of the medicine over laboratory procedures. As a general practice, it is advised to inform the details about all your current list of prescription and non-prescription medicine with your doctor before attending any lab tests.
How Long Does the Effect Stay?
Pain O Soma starts working within half an hour and the effect of the medicine stays up to 6 hours. The elimination half-life of the medicine is 2.5 hours. This medicine is metabolized in the liver and excreted by the kidneys.
Is Pain O Soma Addictive?
Pain O Soma found to be addictive like Xanax even though it is different medicine because of the calming and sedative effect particularly in the case of patients with a history of drug abuse or alcohol abuse.
Can I have Pain O Soma with alcohol?
No, not advised to have this medicine along with alcohol as it can lead to severe life-threatening issues.
Can I have Pain O Soma When Pregnant?
There is no pregnancy categorization for this drug from the US FDA. Animal studies have shown a potential reduction of fetal weight but there is no clinical establishment showing the effects of this medicine in humans. Potential harm and benefits of this medicine have to be weighed to prescribe the medicine to pregnant women.
Can I have Pain O Soma when feeding a baby?
Pain O Soma medicine can pass through mother milk and can affect the infants. Hence the benefits and harm to the infant have to be weighed before prescribing the medicine to nursing mothers.
Can I drive after taking Pain O Soma?
Not advised to do activities like driving or operating machinery as the medicine can cause drowsiness.
Effect of an overdose of Pain O Soma
Overdose of Pain O Soma can be fatal particularly if consumed along with alcohol or other medicine that causes dizziness. Symptoms of overdose can be as mentioned below and shall be addressed immediately.
Vision issues
Confusion
Hallucinations
Muscle stiffness
Loss of coordination
Shallow breathing
Fainting
Seizure
Coma
Effect of using expired Pain O Soma
As a general practice, it is not advised to use expired medicine. An expired medicine may not give the intended benefits. It is advised to dispose of the expired medicine as per medical norms.
Effect of missing a dose of Pain O Soma
Missing a single dose of Pain O Soma may not cause any serious issues. It is not advised to take an extra dose to make up the missed dose. Just skip the missed dose and continue with the next regular dose.
Storage requirements
It is advised to store the medicine at room temperature away from direct heat or sunlight. Pain O Soma has to be stored away from reach to pets and kids.
Substitutes for Pain O Soma
Your doctor may prescribe any of the below-mentioned medicine as a substitute to Pain O Soma (Carisoprodol).
Baclofen (Lioresal)
Cyclobenzaprine (Amrix)
Metaxalone (Skelaxin)
Methocarbamol (Robaxin)
References
Reviews
0

out of

5

based on

0

reviews.
Overall rating: