What is Osimertinib?
Osimertinib is an anti-cancer medication prescribed to treat lung cancer. It comes under trade name Tagrisso manufactured by AstraZeneca Pharmaceuticals. Previously it was Mereletinib.
Read about similar medications
Type of drug
Osimertinib belongs to the class of medication called kinase inhibitors.
Use in brief
Osimertinib is prescribed to use in the treatment of lung cancer.
Constituents:
Osimertinib mesylate itself is an active ingredient in the drug Tagrisso (trade name).
Indications
Osimertinib is prescribed in the treatment of Non-Small Cell Lung Cancer with specific mutations.
How does Osimertinib work?
The active substance in Tagrisso, osimertinib, is a type of cancer medicine called tyrosine kinase inhibitor. It blocks the activity of EGFR, which normally controls growth and division of cells. In lung cancer cells, EGFR is often overactive, causing uncontrolled growth of cancer cells. By blocking EGFR, osimertinib helps to reduce the growth and spread of cancer.
How to Take Osimertinib?
Form of medicine – TAGRISSO tablets (oral) contain 40 or 80 mg of osimertinib.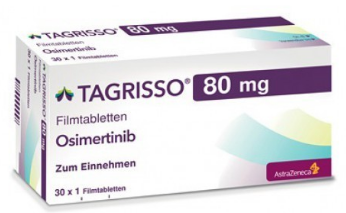 When and How to use:
Follow the instructions as mentioned in the prescription. Never crush or chew the tablet but swallow the whole medicine along with some water or liquids. In general this medicine is advised to use with food. For the patients who cannot swallow, disperse tablet in 60 mL (2 ounces) of non-carbonated water only. Stir until tablet is dispersed into small pieces (the tablet will not completely dissolve) and swallow immediately.
Common Dosage for Osimertinib:
The recommended dosage of TAGRISSO is 80 mg tablet once a day until disease progression or unacceptable toxicity. TAGRISSO can be taken with or without food. However, dosage depends on the severity of the health condition been treated and is decided by the doctor. Never miss a dose or take an excess dose. Consult your doctor immediately if any excess dosage happens by mistake.
When to Avoid Osimertinib?
Osimertinib is not advised to use in some health conditions such as:
Allergic reaction towards the Osimertinib medication
Pregnancy
Breastfeeding
Cardiomyopathy
Dermatologic Toxicities
Interstitial lung Disease/Pneumonitis.
QT Prolongation with signs/symptoms of life threatening arrhythmia.
Renal Impairment
Liver Impairment
Side-effects of Osimertinib
Osimertinib may possibly show some side effects in some patients. It is advised to consult your doctor if any of such side effects are noticed and if they are prolonged. Below mentioned are some possible side effects by Osimertinib. It may show side effects that are not mentioned here in this list.
Back pain
Constipation
Decreased appetite
Diarrhea
Headache
Nausea
Cough
Unusual tiredness or weakness
Dizziness
Light-headedness
Fainting
Seizures
Sneezing
Sore Throat
Changes in the fingernails or toenails like brittleness, pain, inflammation, redness, tenderness, or in some cases separation from nail bed, or shedding of nails
Allergic skin conditions like rashes, dryness, or itching
Swelling or inflammation of mouth
Effects on organs:
This medicine may possibly show adverse effects on the organs like lungs, liver, kidneys, and heart if the patient is suffering from any health issues related to these organs. It is advised to use with extreme precautions and medical supervision in case of severe health disorders or impairment related to these organs. It is advised to consult the doctor and share detailed information about the current health condition so that the doctor can alter the dosage depending on the patient's health condition.
Reported Allergic Reactions?
No major allergic reactions are noticed in case of Osimertinib. But it is not recommended in patients who have known allergic reactions towards Osimertinib. Consult your doctor immediately if any allergic reactions are noticed.
Effect on menstrual cycle
Effect of Osimertinib on menstrual cycle is not clinically established. You may consult your gynaecologist for further information.
Drug Interactions to Be Careful About
Osimertinib may possibly show drug interaction with some other medication if they are used together. It is advised to share the medication details that you might be using any with your doctor before he prescribes this medicine to you.
Osimertinib has the possibility of showing drug interaction if used along with the below-mentioned list of medicine-Macrolide Antibiotics, Antifungals, Antivirals, Nefazodone, Phenytoin, Rifampicin, St. John's Wort, Fentanyl, Cyclosporine, Quinidine, Ergot alkaloids, Carbamazepine, Dexamethasone, Ondansetron.
Food interactions
Limited data is available about food interaction of Osimertinib. Consult your doctor while under this for proper guidance regarding the precautions about food interactions.
Interactions with laboratory procedures:
The following laboratory parameters have shown variations with the usage of Osimertinib-Lymphopenia, Anemia, Thrombocytopenia, Neutropenia, Hyperglycemia, Hypermagnesemia, Hyponatremia, Increased AST, Increased ALT, Hypokalemia, Hyperbilirubinemia.It is always good to share details about your current medication before attending any lab tests so that you doctor and lab technician are aware off.
Shows Effects / Results in and how long do the effect stay:
No information is available regarding the onset of action and how long the effect stays. Consult your doctor if you are concerned about the onset of action and duration of effect.
Is Osimertinib Addictive?
No drug addiction is noticed in case of Osimertinib.
Can I have Osimertinib with alcohol?
This medicine may cause dizziness as a side effect, and consuming alcohol also may worsen the conditions. Consult your doctor if you have a habit of taking alcohol at regular basis.
Can I have Osimertinib When Pregnant?
Not advised to use in general in pregnant women. If you are using this medicine already, then it is advised to postpone the pregnancy until you stop the course and one more month after stopping the course. It is advised for both males and females to use effective birth control during the course and until  6 weeks after the final dose.
Can I have Osimertinib when feeding a baby?
Limited clinical data is available on the effect of this medicine on breastfeeding mothers. Consult your doctor for further information and guidelines.
Can I drive after taking Osimertinib?
Osimertinib may cause weakness and dizziness as a side effect which may cause inability to participate in some activities which require alertness. In such conditions it is not advised to do activities such as driving.
Effect of overdose Osimertinib
Serious adverse effects may be possible if overdosage happens in large quantities. Consult your doctor immediately in such situations.
Effect of using expired Osimertinib?
It is advised not to use any medicine that is expired to avoid any adverse effects. Consult your doctor immediately if any adverse effects are noticed by taking any expired medicine. It is advised to check the label while purchasing the medicine to verify the expiry date to be safe.
Effect of missing a dose of Osimertinib
No major adverse effects are noticed if only one dosage is missed. But if you are missing the dosages regularly, it is advised to keep a reminder so that you don't miss the regular dosage.
Storage requirements
It is advised to store the medication away from direct sunlight and to keep at room temperature. Keep away from the reach of the children and pets.
Alternatives:
Rozlytrek 600mg once daily can be used as alternative only if prescribed by your doctor.
If for some reason an experienced doctor is not available around you, then you can contact us here.
Dr. Divya has been pursuing Dentistry for about 5 years now. Endodontics and Orthodontics are her areas of interest and she holds a BDS degree from Govt. Dental College, Vijayawada, AP. Besides pursuing her career as a Dentist, she is passionate about Technical writing and is spending her free time in writing medical articles to bring awareness and share medical knowledge to the public.
Reviews
0

out of

5

based on

0

reviews.
Overall rating: