Neurobion Forte is a combination of B complex vitamins that help in strengthening the immunity system, improving metabolism, and maintaining healthy nervous system. Get to know how Neurobion Forte works, its side effects, precautions, and contraindications where Neurobion Forte is not suggested.
Read about Neurobion Forte in Hindi
Overview
---
Neurobion Forte is a supplementary multivitamin drug that has most of the B complex vitamins. The specific combination of B1, B6, and B12 is designed so as to support a healthy metabolism, digestive system, cardiovascular system and central nervous system.
Neurobion Forte can be used in vitamin deficiency individuals. It can be taken for maintaining a healthy skin, hair, eyes and liver and is useful to maintain balanced levels of vitamins in the body.
Active ingredients are:
–  Vitamin B1 (Thiamine): Essential for conversion of glucose into energy
–  Vitamin B2 (Riboflavin): An antioxidant that helps fight free radicals
–  Vitamin B3 (Niacinamide): Boost HDL cholesterol (i.e. the good cholesterol)
–  Vitamin B5 (Calcium Pantothenate): reduces signs of skin aging thereby promoting healthy skin
–  Vitamin B6 (Pyridoxine): Important for a healthy nervous
–  Vitamin B12 (Cyanocobalamin): Essential for red blood cell formation and iron absorption of in the body
Neurobion Forte is generally safe to use, but higher dosage may result in liver damage. It is recommended in pregnancy only if strongly needed and with proper medical advice from your gynecologist.
If you are suffering from any liver or kidney-related health problems, consult your doctor before using to avoid any possible side effects
Note: It is not recommended to use in pregnancy, but can be used with caution and medical guidance in critical cases.
Neurobion Forte composition and active ingredients
Neurobion Forte film-coated tab contains the following essential vitamins such as: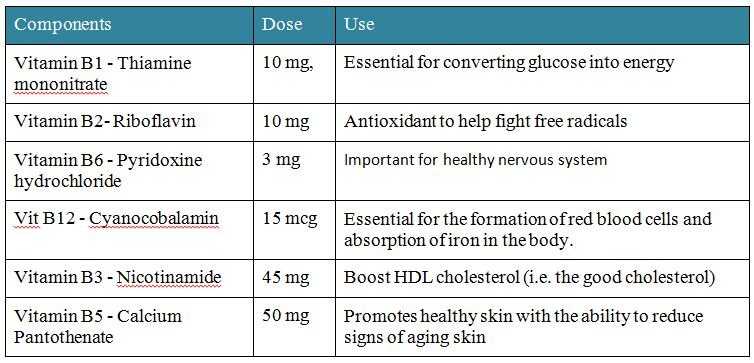 Few General benefits are like:
It prevents early cell degeneration
It lowers cholesterol levels
It helps in the formation of RBC's and nerve tissues
It helps the heart muscles to relax.
It normalizes the nerve signals to the brain
It provides all other benefits of the vitamins
In case you do not have a prescription for Neurobion but wish to look at what other multi-vitamin products are available online that don't need a prescription, here is a useful link – Multivitamin Products on Amazon
Neurobion Forte uses
Mentioned below are the major recommendations of this health supplement:
Vitamin B12 deficiencies
Neck and shoulders nerve pain
Neurological diseases caused by vitamin deficiencies

Peripheral neuropathy
Permanent nerve damage

Alcoholic peripheral neuritis and post-influenzal neuropathies
Can be used in Neuritis and neuralgia of the spinal nerves
Folic acid deficiency
Vitamin B3 deficiency
Injection:  Treatment of peripheral nervous system disorders
Polyneuritis,
neuralgia,
sciatica and shoulder-arm syndrome,
lumbago-lumbalgia,
intercostals neuralgia,
trigeminal neuralgia,
facial palsy,
herpes zoster
diabetic neuropathy
optic neuritis,
numbness of the extremities
Hyperemesis gravidarum
Vitamin B deficiency
Cerebrovascular accidents
Neurobion Forte injection can be used as a supplement to the treatment with
Isoniazid, reserpine, and the phenothiazines
Neurobion Forte can also be used as a supplement in various conditions such as:
Arthritis
High LDL cholesterol
Clogged arteries
Cardiovascular diseases
Mental disorders
Alzheimer's disease
Attention deficit hyperactivity disorder
Addisonian anemia
Consider reading about Arthritis Related:
Side-effects of Neurobion Forte
As this is a multivitamin supplement, generally it is safe to use but some side effects may be possible if taken in large doses. Below are the possible side effects due to large dosage:
Hypersensitive reactions such as itching, urticaria may occur very rarely
Diarrhea
Abdominal pain
Long-term use may result in peripheral sensory neuropathy
Tachycardia- increased heart rate – Very rare
Tightness in the chest
Swelling in the face, lips, tongue or throat
Contraindications of Neurobion Forte
If you are Hypersensitive to Neurobion Forte or its ingredients then consuming this drug is not indicated. It is not recommended for use in children below 14 years of age due to their high content of vitamin B complex
In addition, Neurobion Forte should not be used if you have the following ailments:
Atrophic gastritis
Active peptic ulcer
Acute myocardial infarction
Kidney or liver disease
Condition of increased mast cells
Diabetes mellitus
Cardiac arrhythmias
Precautions while taking Neurobion Forte
If you use other over the counter drugs at the same time, the effects of the Neurobion Forte may change increasing chances of getting side effects. Inform your doctor about your current medication including all OTC, Vitamin supplements, Herbal medicine, and health condition. It would help your doctor to prescribe accordingly so as to avoid any possible side effects. Some health conditions may increase susceptibility to the side-effects of the drug. Take it as directed by your doctor or follow the directions printed on the product insert. Dosage of the medicine is based on your condition. Tell your doctor if your condition is not improved or it worsens. Essential counseling points are listed below.
Difficulty in breathing
Hives
Not recommended in case if you are allergic to its ingredients
Not recommended in pregnant or breastfeeding women
Not recommended to use if suffering any health problems related to kidneys or liver failure
Pregnancy          
You can consume Neurobion Forte during pregnancy. Discuss the risks and benefits of the drug with your doctor.
Breastfeeding
After consuming Neurobion Forte, it passes into breast milk and is considered to be safe during breastfeeding. Consult your doctor before taking for more information.
Neurobion Forte Dosage
Before taking Neurobion Forte it is important to discuss with your physician or pharmacist regarding appropriate dosage required for your needs to avoid side-effects. Take one capsule orally after meals as directed by your physician.
Neurobion coated tablets is not recommended for use in children less than 14 years of age due to their high active substance content
Neurobion Forte – Drug interactions
Using the over the counter products or drugs at the same time may alter the effects of Neurobion Forte. This may increase the risk of side-effects or it may not work properly. Tell your doctor about all the medicines, vitamins, and other herbal supplements you are currently using, so that your doctor can help you prevent or manage drug interactions. Neurobion Forte may interact with the following drugs and products:
Alcohol
5-fluorouracil
Antacids
Loop diuretics such as furosemide
Pyridoxine antagonists – isoniazid, hydralazine, d-penicillamine, cycloserine
Acid-lowering agents
Beverages containing sulfite
Abacavir
Cholestyramine
Ciprofloxacin
Carbamazepine
Chloramphenicol
If for some reason an experienced doctor is not available around you, then you can contact us here.
Dr. Alekhya is an experienced dental surgeon with over five years of clinical experience in prestigious dental clinics in Hyderabad, India. She graduated as a Bachelor of Dental Surgery (BDS) from MNR Dental College in 2012.
Dr. Alekhya has also been involved with notable campaigns and health awareness programs. She is presently employed with Immertive where she supervises the development of virtual reality and augmented reality based applications for training healthcare professionals. In addition to following her career, Dr. Alekhya is very passionate about sharing her knowledge as a guest contributor on various health-related publications including HealthClues.
Reviews
4.5

out of

5

based on

4

reviews.
Overall rating:
★★★★★
"
Very useful information and well explained
"
★★★★★
"
Nice and useful informative bulletin caters all normal queries
"