Knee replacement is a surgical procedure in which the diseased part of the knee joint is replaced with an artificial implant or material. Conventionally, the knee replacement involves replacing the lower end of the thighbone (femur) and the upper end of the leg bone (Tibia) with or without replacement of the knee cap (patella).There are other variations in this surgery, and those options should be discussed with the patient with the treating surgeon. Since it is a complex procedure, it should always be done by an experienced and skilled orthopedic surgeon.
The doctors usually advise for knee replacement surgery when the patient cannot perform even the simplest movements due to the pain, swelling, and stiffness. Sometimes the pain is so severe that the knee hurts even in the night or in the resting position. In such conditions, it becomes difficult to control the pain by any non-surgical treatment or by weight loss.
Over the last decade, knee replacement surgery has become a popular and safe option for patients who have end-stage arthritis of the knee. When pain has aggravated to such an extent that all other treatment modalities fail, knee replacement can help you lead a pain-free and active life. However, sometimes the cost of a knee replacement procedure may deter patients from surgery.
Read More: Osteoarthritis Treatment Options
Conditions for Knee Replacement Surgery
The knee replacement surgery is recommended for the patients who are above the age of 50 years.  Mostly, it is preferred to treat osteoarthritis. However, it is also advised in some other knee conditions, like;
Rheumatoid arthritis
Psoriatic arthritis
Avascular necrosis (Loss of blood circulation due to the death of the bone)
Bone dysplasia (diseases related to the bone growth)
Haemophilia
Crystal Deposition
Damage or any infection of the ligament which causes osteoarthritis
Before Undergoing Surgery
Before undergoing the knee replacement surgery, one must discuss with the doctor about all the pros and cons of the surgery. You should always think twice before heading to the surgery in some conditions. Some of these are:
Health issues: If you have other health problems like cardiac disease, lung problem, diabetes, liver problem, or any blood-related illness, then tell your doctor, because any surgery with such health conditions can lead to higher complication rates. In cases, when the other illness is not curable, doctors can chart out a suitable surgery and post-surgery rehabilitation plan.
Smoking: Several research studies have shown that smoking leads to higher complication rates after surgery. That is why it is important to discontinue smoking preferably much in advance of the impending surgery.
Infection: If you have any other infection, like dental infection, then treat the infection first before the surgery, rather than postponing it. The presence of prior infection in the body can lead to infection in the replaced joint and other associated complications.
Be sure: It is not necessary that every knee pain requires the surgery. Sometimes, knee pain may come from the other causes such as lower back pain and arthritis of the hip. So, discuss with your doctor and make sure whether you need the knee replacement or not. It is highly advisable that one takes a second opinion before undergoing a knee replacement surgery.
Benefits of Knee Replacement Surgery
According to research, it is estimated that 4 out 5 patients, who undergo knee replacement surgery, are benefitted with 100% satisfactory result after the surgery. The benefits of knee replacement surgery are:
It gives you relief from the pain
It improves the joint function
It enhances the quality of life. You can walk and perform the normal activities easily.
Cost  Factors for Knee Replacement
The knee replacement cost can vary depending on factors like doctor's fee, hospital charges, and the choice of implant, naming just a few.
The doctor may suggest replacement of one knee (unilateral) or both the knees (bilateral knee replacement). A bilateral knee replacement can be carried out in a single sitting (simultaneous) or staged, based on the patient's health and the condition of the joints. In a staged procedure, both knee replacements are performed as two separate surgical events several months apart. In such procedures, patients need to stay in the hospital twice and have to go through rehabilitation, after each surgery. Hence the overall expenditure for knee replacement procedure automatically increases.
Read More: Most common health conditions that lead to knee pain
It is helpful for patients to have detailed information of pre-operative and post-operative costs including medication and physiotherapy, beforehand. Financial aspects of knee replacements are an important consideration for many patients. Thus, it is good to have an estimate of various costs incurred in a total knee replacement.
In this article, we cover the approximate cost of a total knee replacement and provide a range for both unilateral and bilateral knee replacement surgeries. Please note that this information can only be used as a guide, as the actual cost may vary based on individuals.
Online advice from doctor
If there is no experienced doctor around you, or you are not satisfied with your treatment, you can consult with experienced orthopedic doctors in our Doctors panel. For this, you have to give some information about your problem and very few online consultation fees. Give your information through this form.
Read More: Top 5 Alternatives to Knee Replacement in 2020
Knee Replacement Cost Breakdown
1. Knee Replacement Pre-op Costs
A knee replacement surgery is like any major surgery, and all necessary precautions have to be taken to ensure its success. Pre-operative investigation for knee replacement typically includes the following:
Physical Examination
Blood Test (total blood count)
Coagulation Test (a test to assess clotting of blood)
Blood-sugar test
Urine Test
X-rays
MRI
LFT-Liver Function Test
Heart rhythm test (ECG or EKG)
Baseline metabolic analysis of kidneys and electrolyte status
BMD Test-Bone Mineral Density (in some cases)
In some cases, certain tests may not be mandatory. Some patients may be advised for additional investigations based on their medical history. The approximate total cost for pre-op tests can be expected between 6000 INR to 15000 INR.
Dental Evaluation
Dental infections need to be treated before surgery to avoid post-surgical infections due to bacteria entering your bloodstream from teeth and gums. Availing such treatments in a dental clinic may cost less than a hospital.
Cost of Pre-Op Medication
It may be required to adjust your prescription medications before surgery. Your surgeon may prescribe certain new drugs, such as anticoagulants and antibiotics, to make the surgery proceed smoothly.
2. Knee Replacement Surgery Cost
Surgery Cost Includes:
Surgeon's fee
Anesthesiologist's fee
Assistant's fee
Operating theater charges
Implant cost
Surgery consumables charges
Medicines for anesthesia
Blood transfusion, if applicable
Error: Contact form not found.
3. Knee Replacement – Post-Surgery Costs
After the surgery, additional hospitalization of 4 to 5 days is required for post-operative rehabilitation. This includes guided movement in the presence of a trained physiotherapist and pain-relief medications. Costs incurred during this period are:
Medications for pain relief.
Physiotherapy and other rehabilitation.
Consumables (dressings) and cost of crutches.
Post-surgery hospitalization for patient and companion, if any.
Read More: An Ultimate Guide for Selecting a Knee Cap
Variations in Knee Replacement Cost
Many patients experience a wide variation among hospitals in their quoted costs for knee replacement surgery. It may be confusing for an average patient to come across widely different prices for the same procedure; but usually, there are genuine reasons for these variations.
1. Expertise of a Doctor
A doctor charges for expertise and skill. A doctor who is experienced and renowned would be most sought after. Medical research has proven that when a knee replacement is performed by a surgeon who on an average operates a minimum of 50 TKR (total knee replacement) patients in a year, his complication rate is just one-third.
It is difficult for many patients to afford the most reputed specialist in town. What can a patient do in such situations? These patients need to opt for a surgeon who charges less fee. It is possible to find an equally qualified and experienced specialist who operates at a lesser fee.
The disadvantage of visiting a doctor who has too much patient inflow is that he or she may be too busy to answer all your queries. Patients' contact point may mostly be the doctor's subordinate. In such a scenario, patients feel concerned and unable to rely on the doctor performing the surgery. Furthermore, some of these doctors may not be able to give enough time to all his patients. Sometimes, they may ask their junior to operate on certain cases. Although this is not a cause of concern since junior doctors always perform surgeries under supervision; however, most patients prefer to be operated by a surgeon who is experienced.
Patients can opt for a specialist having adequate experience and expertise but fewer patients as compared to a very renowned surgeon. Apart from providing the best care and more attention to each patient, a doctor who has less patient inflow charges less. When a surgeon takes the time to answer all relevant queries, patients feel less concerned and are more confident to undergo surgery.
2. Choice of Implants
Technology: The choice of the implant can cause a significant difference in the overall expenditure for surgery. For instance, when one chooses a High-flex knee implant (by Zimmer) over P.F.C. Sigma (Depuy Synthes-J&J), the cost can increase by at least 30,000 rupees. A PFC implant allows for flexion of 110 degrees, which may be enough for an older adult for routine activities.
Currently, there are more advanced options available for example; custom 3-D fitted implants. Ultimately, patient's post-surgery lifestyle plays a crucial role in choosing the right implant.
Some knee Implants used in India are:
NexGen LPS from Zimmer
Oxinium implants from Smith and Nephew
F.C. from Depuy Synthes (Johnson and Johnson)
Scorpio NRG from Stryker
Vanguard from Biomet
Read More: Oxinium implants from Smith and Nephew
Material: Knee implants vary based on the material. Oxinium implants from Smith & Nephew are said to have better longevity and are higher priced than other alternatives. Other commonly used implants are Cobalt-Chromium implants that have been successfully used by surgeons since decades. They cost less than Oxinium implants.
Manufacturer: The doctor you have consulted may specialize in using implants from a particular manufacturer. It may be helpful to inquire about the choice of implant and how their costs vary. Most patients choose implants from multinational companies like Stryker, Zimmer, Smith & Nephew, Depuy (Johnson & Johnson), and Biomet.
Patients should be informed about Indian manufacturers providing implants which are less expensive compared to imported alternatives. Implants manufactured in India cost around 60,000 INR, while those imported, cost between 80,000 to 200,000 INR. Many doctors do not recommend implants manufactured in India as these have been used for not more than five to nine years. Doctors are unable to assure patients of their longevity.1
Following are some Indian companies that manufacture knee replacement implants:
Evolutis India Private Ltd.
Inor Medical Products Ltd.
Maxx Medical Pte. Ltd.
3. In-Patient Services
Apart from surgeon's fee and implant cost, there are additional expenses involved in knee replacements which add up to a significant number. These include the cost of hospitalization, type of ward selected for patient's stay, and nursing staff or attendant hired (shared or full-time).
Depending on the budget, it may be possible to select a hospital which provides the desired combination of services.
4. Incidental Costs
There may be some unanticipated costs. An additional hospital stay or admission to the ICU in the event of post-surgical complication may increase the overall expenditure. Just like any other surgery, there are chances of post-surgical complications in knee replacement procedures. For instance, post-surgical infection, pulmonary embolism, deep vein thrombosis (DVT), and other minor issues like delayed wound healing. These require immediate treatment to ensure implant success, which again leads to additional expense.
Another factor that adds up to the cost is blood transfusion, which may become necessary in certain cases. Variation in cost can also appear based on whether the patient had been administered general or regional anesthesia (spinal or epidural), during surgery.
5. Hospital Type
The choice of hospital is an important criterion in determining the overall expenditure. Prices are higher in high-end corporate hospitals. The same surgeon may operate at a lesser price in another hospital. The most important variable is the quality of the operation theatre; good infection control practices reduce the chance of infection, which is one of the most dreaded complications of knee replacement.
In cities like Mumbai, the cost of surgical treatments are higher, due to higher taxes. Whereas, doctors in states like Gujarat offer similar treatments in less charges.1
Knee replacement costs are much lower in government and charitable hospitals. Families below the poverty line should approach these organizations for such surgeries.
Post-Surgery Physiotherapy
Recovery period varies among patients. The post-surgery physiotherapy plays an important role and can extend from six to twelve weeks. On an average, home-based physiotherapy sessions may incur expenses of 8000 to 15000 INR. It is important that one undergoes proper rehabilitation, so it is best to account for this expenditure too.
Follow-up Visits to the Surgeon
Periodic follow-ups by the surgeon are mandatory post-surgery. The frequency of these appointments may reduce after the recovery period, but it will be a while till it reduces to as less as once a year. Surgeons may advise tests like X-rays or CT scans during the follow-ups; these costs add up. Some surgeons may also charge a fee for follow-up sessions.
Lost Income
Taking time off from work, for surgery and rehabilitation can make you lose pay and increase the financial burden. The solution is, you can ask your employer if facilities like disability insurance could be provided for. Disability insurance is a policy of partial payment to employees suffering from injury or disability. If you belong to a profession that allows you to work from home, it may be wise to install a workstation at home before you go under the knife.
Read More: Comprehensive Guide for Donjoy Knee Braces
Knee Replacement Costs in India
After going through the pre-op and post-op costs of knee replacement, a question you probably have is – what must be the cost of surgery?
The below-mentioned costs are an approximate range for knee replacement surgeries, meant as a guide:
| | |
| --- | --- |
| Type of Surgery | Cost Range in Lakhs (INR)(Inclusive of all in hospital costs) |
| Single Knee Replacement | 2.0 – 3.2 |
| Bilateral Knee Replacement – Single Sitting | 3.5 – 6.0 |
| Bilateral Knee Replacement – Staged | 4.0 – 6.4 |
Sources: Industry data, Patient surveys.
Cost estimate for private hospitals (excludes government and charitable hospitals).
Does not include the costs incurred due to post-surgery complications.
Actual cost can vary based on doctor, hospital, city, and choice of
Includes cost of post-operative medication and physiotherapy. 
How to Manage the Knee Replacement Costs
Let's take, for instance, a patient finds it hard to afford the projected cost but is reluctant to compromise on quality and a successful outcome, what are the options?
1. Find a good doctor who is not super-expensive
There are many ways to locate highly qualified doctors who are as qualified and experienced as the most sought after specialist in your city, but not so expensive.
2. Select an implant which is optimal for you
Analyze your post-surgery lifestyle needs. Ask yourself if you require an implant that provides a higher degree of flexibility but costs more, when all you intend to do are simple physical activities like walking. Question your doctor if you really should go for an implant that promises a 25-year implant life but costs much higher than a normal implant.
3. Evaluate and reduce avoidable expenses
Do you need to have a private room and a full-time nurse? Can you consider undergoing your surgery by an expert doctor in a hospital that does not provide luxury services like five-star hotels?
4. Prepare yourself for surgery
You may be able to help yourself greatly by preparing yourself for surgery, both physically and mentally. Few helpful tips include engaging in pre-operative physiotherapy; taking a balanced diet; maintaining blood-sugar levels, in case you have diabetes; and quitting smoking.
5. Coverage by Government Schemes
The coverage of Knee replacement cost through government schemes varies from state to state. While some states have programs that provide coverage to support either full or partial cost of knee replacement, some states do not. There is also a rise in demand since advanced-stage arthritis can render a person near immobile and lead to severe disability; government schemes should provide coverage for this procedure so even low-income families can afford to undergo the procedure.
The government of India provides a number of health insurance schemes for families below poverty line. However, most of them have medical coverage of only 30,000 to 40,000 rupees per year.
6. Medical Insurance
If you already have medical insurance, then the good news is that most of the medical insurance companies in India now cover knee replacements. However, such claims are only accepted provided the policy had commenced 2 to 3 years before surgery; especially in cases with degenerative conditions like arthritis and osteoporosis.
Patients need to talk to their surgeon beforehand and acquire all the essential documents. Authorization from the medical insurance company is required before you schedule your surgery, for them to validate the claim.
It may be prudent to find out, how much of the cost will they reimburse. Although it might not be the total amount, it surely makes the treatment affordable.
Knee Replacement Surgery and Weight
Knee replacement surgery and body weight – How it matters? The more one begins to understand the magic behind movement in human body, the more one can appreciate the skills involved in conducting successful orthopedic surgeries like a knee replacement. In a perfectly aligned normal knee, you can imagine a straight weight bearing axis passing through the center from the femoral (thigh bone) head to the middle of the ankle.
In a deformity called Varus alignment, this load bearing axis shifts to the inside, causing stress on the inner part of the knee, causing a deformity called bow-legs. When the load bearing axis shifts to the outside, it causes excess pressure on the outside part of knee. This causes the knee to bend inwards leading to the knock-knee deformity. This condition is also called Genu Valgum.
Such deformities can occur naturally as congenital defects but can also be trauma induced. Knee replacement, when not carried out properly, can also lead to joint mis-alignment. Keeping the alignment between the hip, knee and ankle neutral, that is maintaining a straight load bearing axis is critical for a successful knee replacement.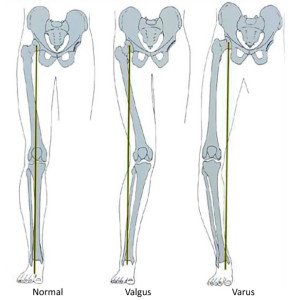 In a study that evaluated as many as 279 revision surgeries for TKR, mal-alignment of the limb or mal-positioning of the TKR was found to be an important cause of the failure. Of these 280 cases for revision surgery, 21 cases were caused by mal-alignment induced wear or osteolysis. A similar study conducted on this topic found that poor knee alignment posed an almost 7 times higher risk of failure!
A total knee replacement surgery involves several steps, one of which is cutting and shaping the femoral head followed by the implanting of the artificial femoral component.
This step is of critical importance to ensure that implant will be within the stipulated alignment range. Several research studies also suggest that computer assisted surgeries are known to have reduced instance of mis-alignment but the debate on this has continued in the medical community. 
What does all of this mean for you as a patient undergoing Knee replacement surgery?
First, you should be aware that one of the causes that can lead to failure of a knee replacement is mis-alignment. A mis-aligned joint can lead to a much shorter life of the artificial joint. Proper alignment of the implants is strongly associated with greater stability and a lower rate of loosening.
When the knee was not properly aligned as per the best practices, the failure rate was 1.5% in a sample size of 1044 patients, as opposed to the fail rate of 0.6% in case of normal alignment.
The impact of mis-aligned joint was further exacerbated by the weight or BMI of the patient. The lowest failure rate of 0.65% occurred in patients with a BMI of 23 to 26 KG / m2.
This failure was 2.5 times higher in patients with BMI of 27 to 40 KG / m2 and almost 10.8 times higher in patients with BMI of above 41 KG / m2 .
This means that if you are over-weight, you are more likely at risk of failure when the joint is improperly aligned. A property replaced knee joint means that all forms of alignment, that is alignment of femoral head with the joint, the tibial bone and the overall alignment is appropriate as per the established practices. When any of these are off, it results in a sub-optimal outcome that often requires a corrective surgery.
Several studies have demonstrated that as the volume of surgeries conducted by a surgeon increases, the post-surgery complication rates tend to come down. Complications in case of surgeons performing fifty or more procedures in a year were at 1.5% compared to 4.2% complications that performed five or less such procedures. 
One hypothesis associated with this finding is that as a surgeon performs more and more procedures, he or she gets better acquainted with the minor differences knee anatomies presented in patient to patient. This experience could result in ensuring that there is a better alignment of the artificial knee, leading to a lower complication rate.
Therefore, as a patient considering a joint replacement surgery, it is important for you to ask questions on how many surgeries have been performed by your surgeon. This alone can be a strong determinant of how successful and long lasting your knee replacement turns out to be.
Another take-away from above studies is that BMI has an important role to play. A person with a higher BMI is more likely to need a revision surgery in the event of a mis-aligned joint. So if you fall into an over-weight or obese category, getting your knee replacement done by a high volume surgeon is more advisable than otherwise. Another option could be to try and reduce weight as much as possible through low-impact exercises, diet etc. prior to undergoing the knee replacement surgery.
Possible Risks Associated with Knee Replacement Surgery
Like other major surgeries, the knee replacement surgery also carries some post-operative risks. Some of the potential risks are:
There are chances of post-operative infections and blood clot. The patients with high blood pressure, diabetes, cardiac issue, or poor immune system, are at higher risk of such problems. Usually, the surgeon gives some antibiotics and anticoagulants to prevent these complications.
The patient may experience weakness and rigidity in the knee. So, it is important for them to maintain their physiotherapy based rehab schedule of exercise regularly, which can help them to gain the maximum motion.
Loosening and dislocation of the implant is one of the rare complications, which may happen after 20 or more years. In such cases, a revision surgery may be needed.
Knee Replacement Surgery FAQ's
Before Surgery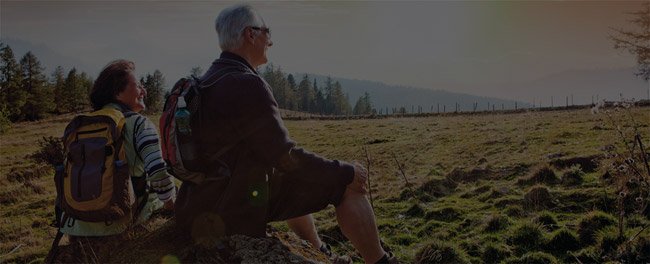 What is Total Knee Replacement?
Knee replacement surgery or knee arthroplasty is done to relieve pain and restore the function of severely damaged knee joints due to arthritis. During knee replacement, a surgeon cuts away damaged bone and cartilage from your thighbone, shinbone, and kneecap and replaces it with an artificial joint made of metal alloys, high-grade plastics, and polymers.
Is there any way to avoid knee replacement surgery?
For some, lifestyle modifications, physiotherapy, medication, or alternative treatment methods such as stem cell therapy and prolotherapy can help manage knee problems. Also, you can speak to your orthopedic doctor about other treatment options that are commonly recommended before resorting to knee replacement surgery, including steroids or hyaluronic acid injections and arthroscopic surgery that addresses the damaged cartilage and to improve joint function.
What is the ideal average age for a knee replacement?
The ideal average age for knee replacement is 45+ years except for Trauma. Consult your doctor about your general health and your ability to withstand surgery. Commonly age is not a factor for knee replacement surgery if you are in reasonably good health and you have the desire to continue pursuing an active and productive life.
How do I know that I need a knee replacement?
If you have osteoarthritis of the knee that causing chronic knee pain, restricting regular activities, chronic stiffness of the knee, constant knee instability, then you are likely a good candidate for a total knee replacement. As always, it is best to discuss possible treatments with your doctor.
During the Surgery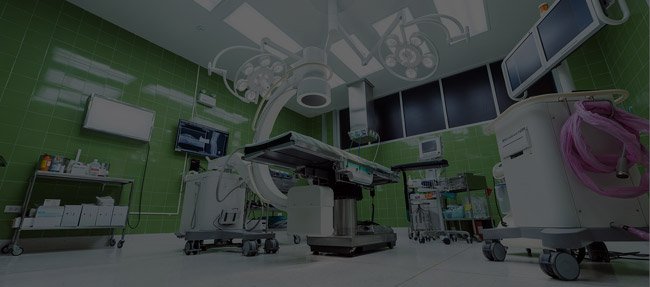 What are the risks involved with this surgery?
Complications of TKR surgery are rare. They include general surgical complications, such as infection, blood loss, blood clots, and damages to nerves and arteries. But before the operation all precautions are taken to minimize these risks, including the use of pre and post surgery antibiotics, short-term use of anticoagulants or compression devices and careful surgical technique.
How long does the procedure take?
Your doctor will discuss with you all of the details regarding your surgery including how long the procedure is expected to take. Most knee replacement surgeries take approximately 2½ hours. Some of this time is taken by the operating room staff to prepare for surgery.
Is this operation painful? How long will the pain last?
This operation is as painful as any other operation. Your pain will be kept under control by a team of pain management specialists (Anesthetists) with the help of oral or intravenous medicines.
How long will I be in the hospital?
You will be discharged home when you are medically stable, have passed physiotherapy, and pain is controlled with oral medications. For most patients, this is 2-4 days following surgery.
Will I have to go to physiotherapy?
For most patients, physiotherapy is part of the pre and post-operative program and is of great help in eliminating the swelling; regain full motion (both bending and straightening) and strength as soon as possible. Physiotherapy helps patients get back to health and regain functional physical mobility.
It begins in the home or can be followed up in an outpatient therapy facility. Some patients can do this on their own with advice along the way.
After Surgery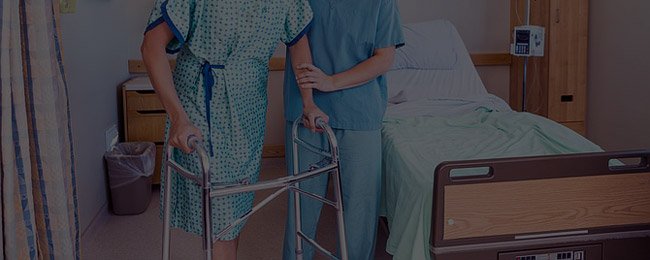 When can I shower after knee replacement surgery?
You may shower three days after your surgery. Protection of the wound is required If drainage is present at the incision. Try to keep it covered and dry while showering.
What is the recovery time for knee replacement surgery?
Everyone heals from TKR surgery at a different pace. In most cases, however, you will likely use a walker or crutches for two to four weeks after your surgery. Then you will advance to walk with a cane and without any assistive device. You will slowly return to normal function without any supportive devices. In general, most patients are close to full recovery after three months.
How much pain relief or increased mobility should I expect?
You should experience a significant reduction in pain and improved mobility after knee replacement surgery. It depends on many factors, including physical condition, weight, activity level, personal anatomy and willingness to comply with your surgeon and physiotherapists instructions prior to and after surgery will play an important role in your recovery.
When can I resume my day to day activities?
When you can return to work after TKR surgery depends on your occupation. If your work is sedentary, you may return as early as 3 to 4 weeks post-operatively. If your work is more rigorous, you may require up to 3-4 months before you can return to full duty. In some cases, more time may be necessary.
When can I Travel?
You can take a short flight, 5 days post surgery, and long flight can be taken post 15 days.
What games or sports can I play?
Based on current clinical research, it is believed that the knee implants rarely loosen over time. However, repeated high-load activities may loosen the components after many years. As a result, high-impact activities such as soccer or basketball are not beneficial for the longevity of the knee implants. Low-impact sports such as golf, swimming, brisk walking and light weight lifting, on the other hand, are completely safe and encouraged.
What should I avoid to protect my new artificial joint?
You should not sit on the floor. You may sit cross-legged but on a bed or a surface which is at a higher level than the floor.
Do I need to replace the Implant, after how many years?
An Implant will last normally for 15 to 20 years. It is important to follow-up with your doctor after surgery to ensure that your replacement is continuing to function well.
Conclusion
If knee replacement cost is the primary consideration that is coming in the way of your aspirations to live a pain-free and active life, a little effort can help you find an optimal treatment option that does not compromise on quality and care.
For more information, do get in touch with us through email at help@healthclues.net or message us on WhatsApp at +91-9640378378, or submit your question below.
Have a question?
If for some reason an experienced doctor is not available around you, then you can contact us here.
References
Error: Contact form not found.
Dr. Kaleem Mohammed graduated as a Bachelor of Physiotherapy in 2014 from Deccan College of Physiotherapy, affiliated to Dr. N.T.R. University of Health Sciences, Vijayawada, India. Dr. Kaleem is an expert at handling physiotherapy needs of patients suffering from orthopedic and spinal conditions and post-surgery rehabilitation. Dr. Kaleem is associated with HealthClues since its inception where he facilitates diagnosis and advanced consultation with senior doctors. He is also a medical researcher and prolific writer who loves sharing insightful commentaries and useful tips to educate the patient community about fitness, treatment options, and post-treatment recovery.
Reviews
4.5

out of

5

based on

2

reviews.
Overall rating:
★★★★★
"
valuable information . thank you.
"