1) What is Donjoy Company
DonJoy® is a leading pioneer in the field of orthotics. The company was established initially in 1978 and was founded by Mark Nordquist and Ken Reed. They named the company DonJoy® after their wives Donna and Joy. Mark Nordquist was an offensive line captain in Philadelphia Eagles which is a professional American football team based in Philadelphia.
The initial versions of products produced from DonJoy® were simple support sleeves designed to support knee, elbow, and ankle joints in the year 1980.
Soon after their initial establishment, it was the perfect timing as the modern era for sports medicine was at its initial stages and there was a huge demand for orthopedic products such as DonJoy®. The company grew rapidly over the next 20 years and there was no looking back for them.
2) What are the situations where a knee brace from Donjoy can be useful
DJO® has a wide range of products and knee bracing is one stream among them. In the Knee Braces range also the company has many options for various needs of the patients ranging from knee pain-related issues to surgical interventions. Listed below are some examples of the knee conditions that DonJoy Knee Braces can be beneficial.
| DonJoy® Knee Brace Version | Indications / Recommended Knee Issue |
| --- | --- |
| SE-4 KNEE BRACE | Mild to Severe ACL and/or PCL, MCL and LCL instabilities for active patients |
| 4TITUDE | Mild to severe ACL, PCL, MCL, and LCL instabilities |
| FULLFORCE™ | Mild to severe ACL, PCL, MCL, and LCL instabilities |
| Playmaker II | Mild ACL, MCL and LCL instabilities |
| Reaction Web® Knee Brace | Knee Pain, patellofemoral pain syndrome |
| OA NANO™, OA Reaction™, OA Adjuster™ 3 | Mild to Moderate Knee Osteoarthritis (OA) |
| ARMOR | Contact / Extreme Sports, Hyperextension, Moderate To Severe ACL Instabilities, Preventive / Bilateral Use, MCL / LCL Instabilities / ACL Reconstructions |
| X-ACT ROM LITE | Post-traumatic treatment, ACL, PCL, LCL, and MCL Surgeries, Patella realignment and meniscal or articular repairs |
| Infrapatellar Band | Patella Tendonitis, Osgood–Schlatter disease (OSD) |
3) Different Types of Knee Braces from Donjoy
DJO Knee related products can be divided into
DonJoy Knee Braces can be classified broadly into 5 types as listed below.
Type of Knee Bracing
DonJoy Knee Brace Models
Knee Ligament Bracing

Armor
FULLFORCE
SE-4 KNEE BRACE
4TITUDE
DonJoy Playmaker II
A22 Custom Knee Brace
Playmaker II FourcePoint
Defiance III Knee Brace
DonJoy Playmaker
Defiance
Defiance III Female Fource
DonJoy TriZone Knee Brace
Hinged Lateral J
OA Adjuster 3
Renegade
TriFit Web Knee Brace

OA Bracing

OA Nano
OA FullForce Knee Brace
Clima-Flex OA Knee Brace
Custom Adjustable OA Defiance
OA Adjuster 3
OA Lite
OA Reaction Web
TriFit Web Knee Brace

Custom Bracing
A22® DEFIANCE®
Post-Op Knee Bracing
X-Act ROM Knee
X-Act ROM Lite
Telescoping Cool ELS
Telescoping Cool TROM
Telescoping IROM
Telescoping TROM Advance (Total Range of Motion)
X4 Smart Brace With Motion Intelligence
Knee RANGER Lite
Hinged Knee Bracing
DonJoy Hinged Knee
DonJoy Playmaker II
Hinged Air DonJoy
Hinged Knee Support
Reddie Brace
---
Shop DonJoy Orthopedic Products on HealthClues
Are you Looking for a Knee Brace that is best in class. Check the options available at our Online Portal.
---
4) How Each One of Donjoy Knee Braces Works, What Are the Pros and Cons, Precautions
What is the 4-Points-of-Leverage System™?
Basically, 4-points-of-leverage refers to 4 points of the knee brace which protect the tibia or the lower leg from moving anterior or forward in relation to the thigh bone or the femur. This prevention of forwarding movement of the leg it significantly reduces the chances of ACL Tear. So what are the 4-Points –
1-point – Anterior Thigh Cuff that is placed at the front of the upper thigh at the topmost position of the brace.
2-Point – Posterior Calf Cuff that is placed at the back of the calf at the bottom-most position of the brace.
3-point – Posterior Thigh Strap that is placed at the back of the lower thigh below the force point 1.
4-Point – Anterior Calf Strap that is placed at the front of the calf above point 2.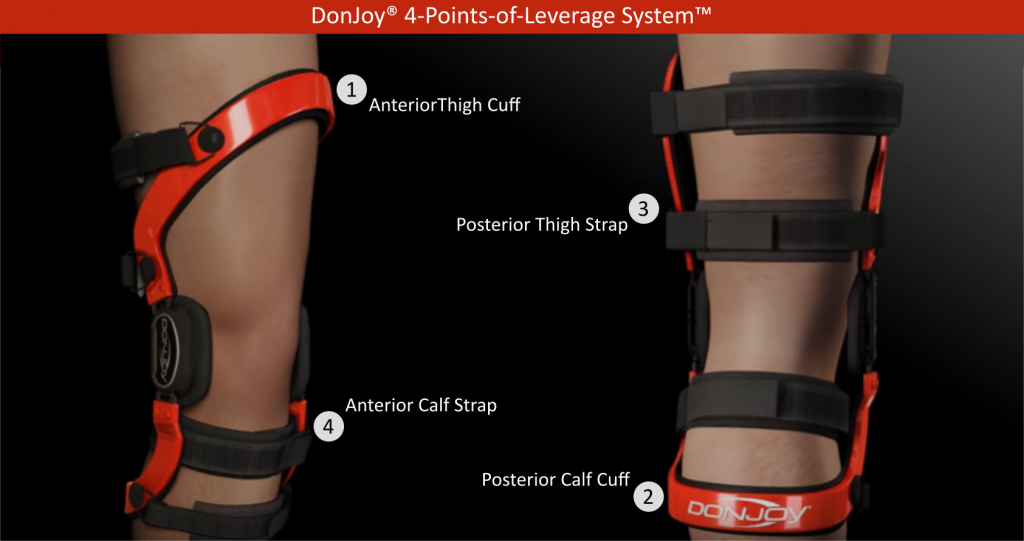 What is the FourcePoint ™ Technology?
FourcePointTM is another patented technology used in the hinge design of hinged knee braces of DonJoy® Company. It enhances the DonJoy's 4-Points-of-Leverage System™ when used together to provide the most proven and powerful solution available to protect ACL.
FourcePoint™ Hinge Technology utilizes a spring mechanism to apply a gradually increasing amount of resistance during knee extension. The resistance reduces the time spent at the point of full extension of the knee which is the most risk position for an ACL tear and improves the posterior load applied by the brace on the tibia to protect anterior tibial translation. The resistance is adjustable to engage the knee at the last 250 of the extension before coming to an endpoint. The default setting is set at 350 as a factory setting. This tension of hinge technology is designed as adjustable one ranging from the 25°, 35°, 45°, 55° or 65° where 350 is the factory setting. FourcePoint™ hinge technology provides 5 different resistance levels like 0, 1, 2, 4 and 6 pounds to accommodate patient comfort and activity levels.

Let's Look At Some Top Selling Models from the Donjoy Knee Braces
1. DonJoy Armor Knee Brace
DonJoy® ARMOR is recommended for candidates with high activity levels like in contact sports and extreme sports. It helps to prevent possible injuries in such activities by providing maximum strength and support. Apart from preventive use, this may also be recommended for use in moderate to severe ligament injuries.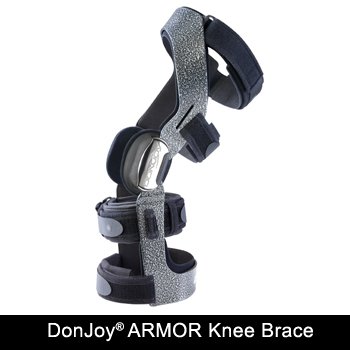 DonJoy® Armor Knee Brace is designed such that it provides an increased resistance at certain extreme points of extension and flexion of knee joint. This job is done by the patented design of DonJoy, the FourcePoint™ hinge technology which is set at 350 as a factory setting. This tension of hinge technology is designed as adjustable one ranging from the 25°, 35°, 45°, 55° or 65° where 350 is the factory setting.
How does it work?
Another patented technology called 4-Points-of-Leverage System™ helps to minimize the load that would be put on ACL and other knee ligaments while the natural movements of the knee like flexion and extension movements. The upper anchor of the brace that comes at thigh level does this by increasing the force on the posterior tibia and the lover anchor that comes at calf level puts force on the calf. By this synergetic action of putting pressure on the tibia (hamstrings) and calf and controlling the flexion at the knee joint with the help of hinges, this knee brace helps to get rid of the risk of ACL injury.
Pros:
Lightweight
Durable
Strong and Sturdy
Very Supportive
Doesn't slip as much as other braces
Cons:
Can't put it on after your boot is on
2. DonJoy FULLFORCE Knee Brace
DonJoy FULLFORCE is specifically designed with a combination of two patented technologies of DonJoy namely 4-Points-of-Leverage System™ and FourcePoint™ hinge technology. These 2 technologies are proven clinically and powerful solutions to ensure the protection of ACL. DonJoy FULLFORCE is recommended for athletes of all kinds due to exceptionally lightweight and low profile design.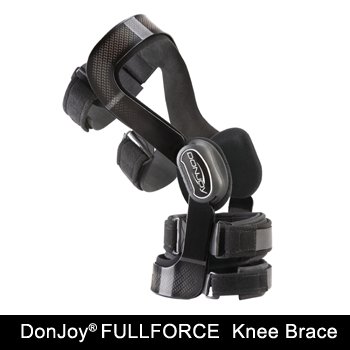 How does it work?
DonJoy FULLFORCE Knee Brace also works the same way the DonJoy® ARMOR works as the technology and mechanism used are the same, 4-Points-of-Leverage System™ and FourcePoint™ hinge technology. They help to reduce the load on ACL by controlling the degree of flexion and extension and forcing the hamstring and calf regions to be in more natural alignment.
Difference between DonJoy Armor Knee Brace and DonJoy FULLFORCE Knee Brace
Both the Armor and FULLFORCE are designed in the same way and mechanically work in the same way but the only difference is in the frame. DonJoy Armor Knee Brace is made of aircraft-grade aluminum which is very rigid and strong compared to DonJoy FULLFORCE Knee Brace, whereas FULLFORCE is equally supportive but has little more flexibility which allows more natural movement compared to Armor.
Pros:
Good built quality
Excellent ACL stability and support
Comfortable
Lighter than the DonJoy Armor Knee brace
Cons:
Hinges squeak a lot
Some patients may take time to get used to it
3. DonJoy SE-4 KNEE BRACE
DonJoy SE-4 Knee Brace is also designed based on DonJoy's patented 4-Points-of-Leverage System™ and is recommended for active patients with mild to severe ACL, PCL, MCL, LCL, and meniscus instabilities. This knee brace also designed based on the same technology of Patented Four Points of Leverage System that other hinged braced from the DonJoy work as mentioned in the above models.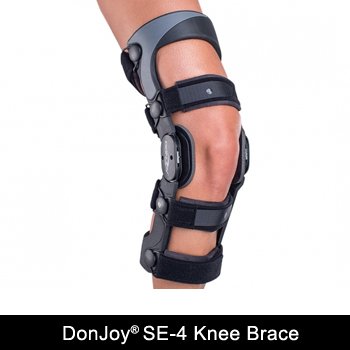 DonJoy SE-4 Knee Brace comes in three different versions called ACL Version, PCL Version, and CI (Combined Instability) Versions. In ACL Version the single strap is located in the back of the thigh; in PCL Version the single strap is located in the front of the thigh, and in CI (Combined Instability) Version will have a strap in front and in back of the thigh. It is advised to take the opinion of your doctor or physiotherapist to decide on which version is needed for your condition.
How does it work?
DonJoy SE-4 Knee Brace works, in the same way, the above two, based on the DonJoy's 4-Points-of-Leverage System™ and FourcePoint™. It is more flexible compared to the Armor and FULLFORCE.
Pros:
Sturdy and well designed
Can be used in all contact sports
Safe for all freshwater and saltwater activities
Its low profile design allows it to fit under almost any type of clothing
Due to the special patented Kraton TM coating on this brace, it is usable in even water sports including seawater.
Cons:
Cannot use it for activities like Yoga or Pilates
4. DonJoy 4TITUDE Knee Brace
DonJoy® 4TITUDE is a functional knee brace designed on the same principle of DonJoy's patented technology DonJoy's 4-Points-of-Leverage System™. This brace is designed for supporting instabilities in case of ACL, MCL, PCL and LCL injuries.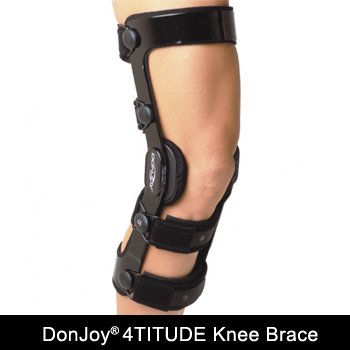 In contrast with the Armor and FULLFORCE, this model is designed for non-contact sports and active, inactive or sedentary patients. They are light in weight and with a standard anti-migration supracondylar pad. This model is available in 3 variations like ACL, PCL, and CI (Combined Instability) versions.
How does it work?
DonJoy® 4TITUDE also works on the same technology of DonJoy's 4-Points-of-Leverage System™.
Pros:
Low profile design and aircraft-grade aluminum material is used in the frame design make it very light in weight.
Suitable for inactive patients, and non-contact sports.
Unmatched quality.
Cons:
Not recommended for contact sports.
5. DonJoy Playmaker II
DonJoy Playmaker II is an enhanced version of the DonJoy Playmaker which is a very reliable model that already proven. The Playmaker II model is enhanced with the use of high tenacity nylon and spandex fabric that is termed as Hi10TM. It is an advanced spacer fabric that helps to provide a cooler environment even at all activity levels. This brace also used DonJoy's D3 Hinge mechanism for the ROM option.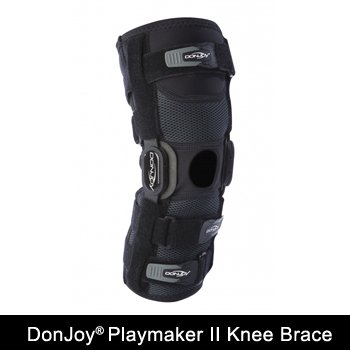 DonJoy Playmaker II is recommended for mild to moderate ACL, MCL and LCL instabilities. It is recommended for non-contact sports activities, unlike the rigid knee braces that are used in contact sports like food ball. This can be used in sports like basketball, volleyball, and soccer to prevent possible ligament injuries.
How does it work?
DonJoy Playmaker II works based on the FourcePoint™ Hinge Technology to minimize the chances of ACL injury helping the flexion angles of the knee.
Pros:
Great support and quality
Provides good stability, comfort, and ROM (Range Of Motion) as it uses ROM Hinges
Straps are highly adjustable
Unmatched comfort and fitting
Molded strap tabs allow an easy strap adjustment
Cons:
Some patients may find difficulties with choosing the right size
Some patient may feel difficulty while removing the brace particularly if they have a problem in bending the knee
6. DonJoy OA Nano
DonJoy OA Nano is designed for patients suffering from mild to moderate Osteoarthritis (OA) and make them move freely and stay active. This Donjoy Knee Brace uses the technology called Nano MAGTM which has the lightest metal used in the design. DonJoy OA Nano is known to be the world's lightest knee brace available for OA weighing about only 14.2 ounces.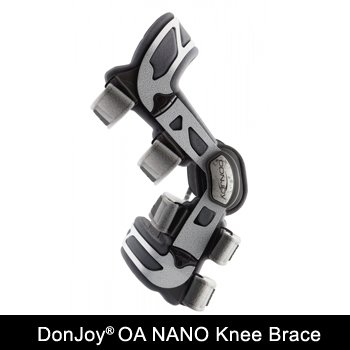 How does it work?
DonJoy OA Nano works by offloading the bodyweight on the weaker knee and shifting it to the stronger part.
Pros:
Provides ultimate comfort due to the malleable magnesium frame that allows cuff adjustment
Extremely lighter in weight
Stays in place even at all activity levels due to its contoured design
Nano MAGTM material that is used on the loading side provides strength at the time of offloading.
Cons:
Almost no cons, if you choose the right model and use it properly as recommended
7. DonJoy OA Adjuster™ 3
DonJoy OA Adjuster 3 is designed for OA patients to minimize the pressure on the Osteoarthritis knee. This DonJoy Knee Brace is powered by DonJoy patented technology called Nano MAGTM and very tough aluminum is used in the design of frames used in this model. This model is known to be one of the most durable DonJoy Knee Brace in their product line. DonJoy's 4-Points-of-Leverage System™ is also used in this model to provide stability to the ligaments.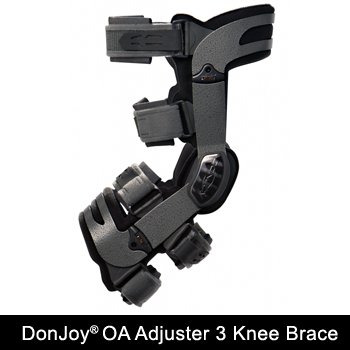 How does it work?
DonJoy OA Adjuster works mainly by offloading the weight that is exerted on the arthritis knee and shifting the body's weight on to the better half part of the knee.
Pros:
Can fit into the normal clothing
Tough and durable
Nano MAGTM technology provides lightweight function with the strength of aircraft-grade aluminum on the offloading side of the knee.
Floating hinges allow a personalized and contoured fit for patients at all activity levels.
Cons:
8. DonJoy OA Reaction Web
DonJoy OA Reaction Web is designed for Osteoarthritis patients. This DonJoy Knee Brace is designed based on the patented silicone web technology. DonJoy OA Reaction Web can be used with sports like tennis, golf and jogging to maintain an active lifestyle.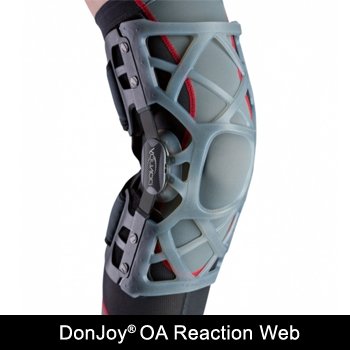 How does it work?
The web design in the front part of the knee helps absorb the shocks like a spring for your knee and it also helps to pull the hinging towards the knee to provide the offloading effect on the weaker side of the knee or the painful side of the knee. An integrated silicone condyle pad helps to push on the side of the knee and relieve pain from the OA. This silicone condyle pad has little hexagonal air pockets design for nice comfortable support.
Pros:
Easy to use with adjustable straps on the back
Padding on the side parts of the inner lining gives extra comfort
Comfortable design with breathable material and open frame which makes wearing is also easy.
Cons:
Some patients feel issues with sizes. You just have to choose the correct size to get the most out of it.
9. DonJoy X-Act ROM Lite
DonJoy X-Act ROM Lite is designed for post-traumatic or post-operative rehabilitation purposes in case of post-traumatic ligament tears like ACL, PCL, MCL and LCL surgeries, patella realignment and meniscal or articular repairs. This DonJoy Knee Brace is beneficial in providing immobilization and protected Range Of Motion (ROM) in these knee conditions.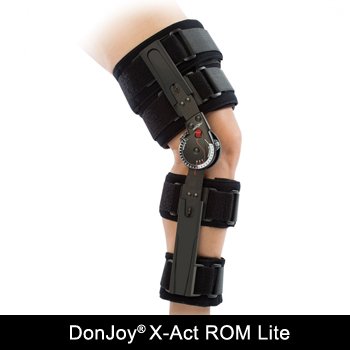 How does it work?
It works by the presence of unique feature X-Act ROM Hinge that enables the adjustment of range of motion based on the need of the patient. Telefit technology used in the DonJoy X-Act ROM enables the straps to telescope independently which helps to keep the straps away from the surgical site on the leg.
DonJoy X-Act ROM Hinge provides extension settings ranging from -10 degrees to 90 degrees and flexion settings ranging from -10 degrees to 120 degrees. Swivel tabs and buckles prove a close fit and the sticky foam help to keep the brace in place.
Pros:
Lightweight and easy to use
Durable X-Act ROM hinge
Full circumferential foam with an easy-to-adjust strapping system
Simple telescopic upright design
Anti migration foam
Dynamic suspension frame
Quick and easy application
Stable, secure and durable
Cons:
Some patients may face difficulty until getting used to it.
Velcro straps may be too lengthy for some patients. Follow the instruction provided in the manual in such situations.
10. DonJoy Tru-Pull Lite
DonJoy Tru-Pull Lite is designed based on the latest patented technology of the Tru-Pull family of DonJoy Braces. DonJoy Tru-Pull Lite is designed for the patellar instabilities like mild to moderate lateral patellar subluxation or dislocation and Patellar maltracking.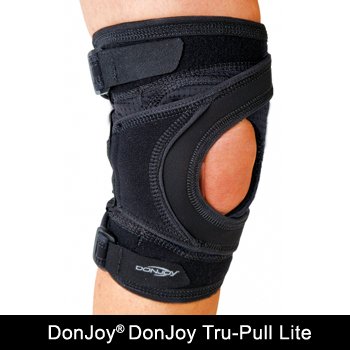 How does it work?
This model of DonJoy Knee Brace has a bifurcated strap design which helps to dynamically pull the patella in proper alignment. Its unique design helps to apply constant corrective force on the patella
Pros:
Special breathable wicking fabric helps to absorb moisture and evaporate easily
Comes set of removable plastic hinges to provide medical and lateral stability
Easy to use
Comfortable design
Lightweight
Cons:
Some patient experience size issue, selecting one size higher helped them.
Some patents complain about the Velcro straps durability
More about Donjoy® Company
In 1987, DonJoy® was acquired for 20 million dollars by Smith & Nephew; a London based medical devices company. A leading orthopedic soft goods company called ProCare was acquired by DonJoy in 1995. The annual revenue of the company reached an average of 100 million dollars by the late 1990s. The company declared a leveraged buyout in the year 1999 and changed the name to DJ Orthopedics from DonJoy. DJ Orthopedics (DJO®) went public again in 2001. After this, the company grew rapidly over several years and acquired several other companies – Depuy® Soft Goods, Orthologic® Bone Growth Stimulation, Durakold Cold Therapy Products, Encore® Orthopedic Soft Goods, Axmed Superior Medical Equipment, Aircast® bracing, and Support Devices. After acquiring the Aircast® in the year 2006, they changed the company's name as DJO® Inc.
The company once again got purchased by Blackstone Group in the year 2007 to become a privately held company. Blackstone Group merged DJO® with another organization named Reable Therapeutics owned by it which included a group of different products lines then called Empi®, Encore®, and Chattanooga® and they finally adopted the name DJO® among all. With this amalgamation, DJO changed the face of the orthopedic devices industry and became the leading manufacturer of matchless products in various streams like pain therapy, rehabilitation, surgical reconstruction implants, etc. DJO® continued its growth by purchasing overseas distributors in crucial localities like Australia, Canada, South Africa, and Tunisia. The strategic approach of acquisitions helped the company to take control of its sales and distribution in nearly more than 36 countries that it serves.
The company has continued to grow its product lines with strategic acquisitions. Some of the recent acquisitions are Bell-Horn®, Dr. Comfort®, and Elastic Therapy. DJO® got acquired by Colfax Corporation in the first quarter of the year 2019.
Since the initial establishment in a California garage, the DJO® has transformed into a billion-dollar company. Today, it got more than 5000 employees and got more than 12 facilities around the globe. The motto of the DJO Global is to enable people to live their lives fullest by supplying world-class medical devices and services in injury prevention and rehabilitation.
References:
Dr. Kaleem Mohammed graduated as a Bachelor of Physiotherapy in 2014 from Deccan College of Physiotherapy, affiliated to Dr. N.T.R. University of Health Sciences, Vijayawada, India. Dr. Kaleem is an expert at handling physiotherapy needs of patients suffering from orthopedic and spinal conditions and post-surgery rehabilitation. Dr. Kaleem is associated with HealthClues since its inception where he facilitates diagnosis and advanced consultation with senior doctors. He is also a medical researcher and prolific writer who loves sharing insightful commentaries and useful tips to educate the patient community about fitness, treatment options, and post-treatment recovery.
Reviews
0

out of

5

based on

0

reviews.
Overall rating: