Table of Contents
Obesity in the United States
What is Contrave?
Constituents
Indications
How does Contrave work?
How to Take Contrave?
Common Dosage for Contrave
When to Avoid Contrave?
Side-effects of Contrave
Effects on organs
Reported Allergic Reactions
Effect of Contrave on the menstrual cycle
Drug Interactions to Be Careful About
Food interactions
Interactions with laboratory procedures
Shows Effects / Results in (how long does the effect stay?)
Is Contrave Addictive?
Can I have Contrave with alcohol?
Can I have Contrave When Pregnant?
Can I have Contrave when feeding a baby?
Can I drive after taking Contrave?
Effect of an overdose of Contrave
Effect of using expired Contrave
Effect of missing a dose of Contrave
Storage requirements
Reference
Obesity in the United States
Obesity in the United States is a serious health concern affecting almost 35% of the Americans and has been considered as a chronic disease by the American Medical Association. Los-Angeles has a high incidence of obesity while Provo-Orem has the lowest incidence. New York is listed in the middle in the incidence of obesity.
What is Contrave?
A basic introduction in brief
Contrave is the drug used for the management of obesity or overweight. The drug contains two active ingredients i.e. Naltrexone hydrochloride and Bupropion hydrochloride. The drug has been approved by US FDA. The available form of Contrave medicine is extended-release tablets. Both the ingredients in Contrave work synergistically for the long-term management of obesity.
Type of drug
Contrave has been assigned prescription-only status by USFDA. The drug should be dispensed by the pharmacist only on the presentation of a valid prescription written by a Licenced Medical Practitioner.
Use in brief
Contrave is used for long-term weight management in obese and overweight people. It is used along with a well-controlled diet and scheduled physical activity.
---
Shop DonJoy Orthopedic Products on HealthClues
Are you Looking for a Knee Brace that is best in class. Check the options available at our Online Portal.
---
Constituents
Contrave is marketed as an extended-release tablet. Naltrexone hydrochloride and Bupropion hydrochloride are the two active ingredients present in Contrave. The tablet comprises of three layers. One layer contains 8 mg naltrexone hydrochloride while another layer contains 90 mg bupropion hydrochloride. A third inert layer separates both the drug-containing layers.
The inactive constituents present in Contrave are –
Crospovidone
Microcrystalline cellulose
Colloidal silicon dioxide
Hypromellose
L-cysteine hydrochloride
Edetate sodium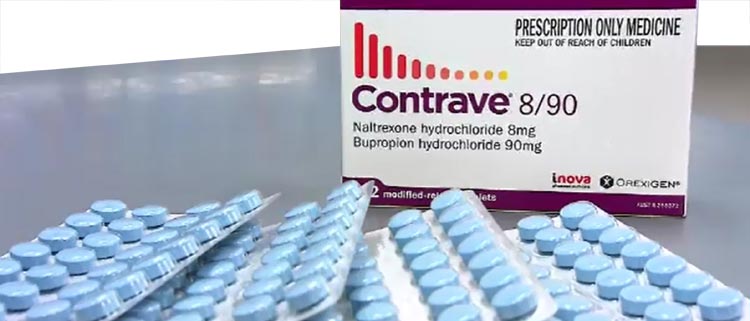 Indications
Contrave is used for chronic weight management in people who are overweight or obese. The drug is used in addition to a well-controlled diet (a reduced-calorie diet) and increased physical activity. Contrave is indicated in the people with a body mass index (BMI) of:
30 kg/m² or greater (categorized as obese) OR
27 kg/m² or greater (categorized as overweight) along with at least one weight-related comorbid condition (such as type 2 diabetes mellitus, hypertension, or dyslipidemia).
Recommended read – Obesity and musculoskeletal problems in children
How does Contrave work?
Both the ingredients of Contrave work synergistically to provide combined action for chronic weight management. The detailed mechanism of action of Contrave in weight management is not fully understood. However, it is believed that Contrave works on the hunger center of the brain. Through this action, it reduces food intake, enhances satiety and increases energy expenditure. The sites of action of Contrave are mesolimbic dopamine circuit and hypothalamus.
Bupropion is a weak inhibitor of neuronal reuptake of norepinephrine and dopamine while naltrexone is an opioid antagonist. Both the drugs, in combination, increase the effects of Pro-opiomelanocortin (POMC) cells than either drug alone.
How to Take Contrave?
Form of medicine
Contrave is available in the form of film-coated, bi-convex, round triple-layered, extended-release tablets.
When to use
It is used in chronic weight management in people who are obese or overweight, along with reduced-calorie diet and increased level of physical activity. In general it is recommended to take this medicine in the morning and evening schedules preferably with low fat meal or as prescribed by your doctor.
How to use
Contrave is intended for oral administration. The drug is to be swallowed whole and should not be chewed, crushed or cut.
Common Dosage for Contrave
To increase the tolerability in patients taking Contrave, the dose should be tapered-up every week up to 4th week, starting with the initial minimum dose. The dose at week 1 starts once in the morning. In the second week, the dose is increased to one tablet in the morning and one in the evening. In the third week, two tablets are recommended in the morning and one tablet in the evening. From week 4, the dose is finally tapered up to 2 tablets in the morning and 2 in the evening. The maximum daily dose of Contrave is 32mg/360mg. Contrave should be avoided with high fatty meals. This may increase systemic exposure leading to increased side effects.
When to Avoid Contrave?
Contrave should be avoided in the following condition:
If the patient is sensitive to naltrexone, bupropion or any of the inactive ingredient of Contrave
Taking other medications containing bupropion
Uncontrolled hypertension
If suffering from seizures
Abrupt discontinuation of certain drugs such as barbiturates and ant-epileptic drugs
Having anorexia nervosa or bulimia
Pregnancy
Side-effects of Contrave
Following are some of the side effects related to Contrave:
Nausea and vomiting
Neurological disorders
Rise in heart rate
Increased blood pressure
Angle-closure glaucoma
Allergic reactions
Seizures
Effects on organs
Contrave may also cause side effects in various organs such as:
Gastrointestinal System: Constipation, vomiting, dry mouth, upper abdominal pain, viral gastroenteritis
Neurological system: Dizziness, insomnia, headache, anxiety, irritability
Eye: Angle-closure glaucoma
Urinary tract: Increased risk of urinary tract infection
Skin: Rashes, hot flushes
Cardiovascular system: increased heart rate, increased blood pressure, palpitations
Ear: Tinnitus
Overall Body: Fatigue, tremor, muscle strain, influenza
Reported Allergic Reactions
Allergic reactions with Contrave are reported both in the clinical trials as well as post-marketing reports. Urticaria, pruritis, angioedema, and dyspnoea are reported in the clinical trials. Erythema multiforme, anaphylactic shock, and Stevens-Johnson syndrome are reported from post-marketing reports. The patients should discontinue the drug and consult with the healthcare provider in case of serious allergic reactions.
Effect of Contrave on the menstrual cycle
Contrave may affect the reproductive system in females. Vulvovaginal dryness, vaginal hemorrhage, and menstrual irregularities may be experienced by the women taking Contrave.
Drug Interactions to Be Careful About
Various drugs may interact with Contrave. These drugs may either reduce the therapeutic potency or increase the side effects of Contrave. Following are the drug that may interact with Contrave:
Monoamine Oxidase Inhibitors (MAOI)
Contrave is contraindicated with Monoamine Oxidase Inhibitors. At least a gap of 14 days is required to start the Contrave therapy after discontinuing Monoamine Oxidase Inhibitors.
Opioid Analgesics
Contrave may reduce the efficacy of opioid-containing medications such as some anti-diarrheal, cough and cold medications, and opioid analgesics. In case the patient requires opioids, Contrave therapy should be discontinued.
Food interactions
Avoid taking Contrave with high fatty meals as this may increase the side effects of Contrave. Avoid taking caffeine-containing products such as coffee, cola, energy drinks, and caffeine-containing dietary supplements.
Interactions with laboratory procedures
Contrave may interact with the laboratory screening of amphetamines. The false-positive tests may occur even after discontinuation of the Contrave. Testing of samples for amphetamines in such patients should be done with gas chromatography or mass spectrometry.
Shows Effects / Results in (how long does the effect stay?)
According to USFDA, the loss of weight in patients due to Contrave should be evaluated after 12 weeks of therapy. If the weight loss is less than 5% of the initial weight, the treatment should be stopped as these patients may not have adequate weight loss through Contrave in the long-term.
Is Contrave Addictive?
There is no evidence of abuse or physical dependence with Contrave in 56-weeks duration.
Can I have Contrave with alcohol?
Drinking alcohol when on Contrave may cause neuropsychiatric events or reduced alcohol tolerance. Avoid or limit the consumption of alcohol while on Contrave.
Can I have Contrave When Pregnant?
Contrave is contraindicated in pregnancy as it may cause harm to the fetus. Inform your healthcare provider if you are pregnant or planning to get pregnant before starting Contrave therapy.
Can I have Contrave when feeding a baby?
Breastfeeding should be avoided while on Contrave as this drug passes into breast milk and harm the infant. Ask your healthcare provider for more information.
Can I drive after taking Contrave?
Contrave may cause insomnia and dizziness. Do not drive if you feel that you are not in a position to drive safely.
Effect of an overdose of Contrave
Doses beyond the maximum recommended doses may lead to various side effects such as seizures, respiratory failure, coma, stupor, hallucinations, and loss of consciousness. In case of overdosage, the patient should be admitted to the hospital and vital signs should be monitored.
Effect of using expired Contrave
Like other drugs, using expired Contrave may either lead to serious side effects or reduced the therapeutic effect of the drug. Never use expired Contrave. Dispose of expired medications as per manufacturer's instructions.
Effect of missing a dose of Contrave
Take Contrave strictly as prescribed. If you missed the dose, wait for the next scheduled dose. Do not take the missed and next scheduled dose simultaneously.
Storage requirements
Store Contrave at 25°C. Keep Contrave away from the reach of children.
Reference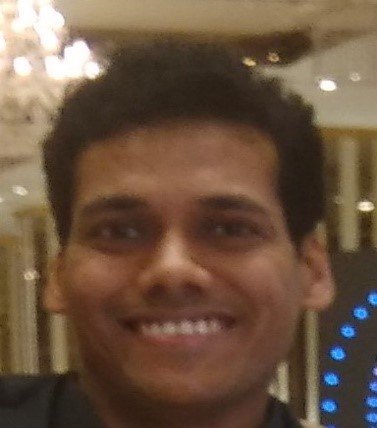 Mr. Rohit Jain is a Pharmaceutical techno-marketing trainer with more than 10 years of industrial experience. In his previous assignment, he was Senior Product Manager, heading the Product Management Team at an organization of repute. Mr. Jain is B. Pharma, MBA, PGDBM, LL.B. and is a Registered Patent Agent. He also has a Professional Diploma in Clinical Research and is also a certified Pharmacovigilance Professional. He was involved in delivering medico-marketing training to on-the-field marketing professionals as well as in-house business development professionals. Mr. Rohit Jain is a prolific medical content writer and had written more than 500 medical articles spreading over varied therapeutic areas. Mr. Jain has a keen interest in learning about the latest happenings of the pharmaceutical and medical industry.
Reviews
0

out of

5

based on

0

reviews.
Overall rating: