Women's body undergoes various changes during and post-pregnancy. Maternity belt is the product that helps support your lower back during and also post-pregnancy until the recovery.
During Pregnancy
During the third trimester of pregnancy, baby weight grows rapidly which adds pressure on the pelvis and lower back. Maternity belts are the belts that wrap gently around your lower back and abdomen; above and below the belly cradling the bump. They can help support the uterus and if worn lower on the abdomen can help pull the baby off the pelvis and eases the pressure on it.
Maternity belt is helpful:
Especially for the women who will have to stand for long working hours.
For women with multiple babies (twins, triplets, etc.,).
The "swayback" appearance of pregnancy is due to the extra weight being carried in front of the body in combination with the stretching and weakening of core muscles that support the spine. Maternity belts provide external support to your body to facilitate proper posture. By supporting the lower back and torso, maternity belts encourage correct posture and prevent overextension of the lower back.
Post Maternity Belt (Maternity belt after delivery)
It's the crucial period to recover from the weakness and provide the care for the newborn as well. Decreased core strength is common in the weeks following birth. Muscles and ligaments that were stretched and strained during pregnancy require time to heal. Maternity belt is helpful in recovery during post-pregnancy especially in caesarian delivery.
Many women find that wearing a maternity belt provides additional support to the abdomen and lower back, decreasing discomfort. A maternity belt can be beneficial to women who have experienced a separation of the abdominal muscles (diastasis recti) by physically bringing the abdominal muscles back together. Combined with specific exercises, this may assist in closing the gap between the abdominal muscles.
Remember, the maternity belt is a temporary fix. It doesn't heal the underlying condition or dysfunction. By supporting the abdomen, it can "turn off" the muscles underneath, causing increased weakness long term.
Benefits of a maternity support belt
Besides being extremely supportive and relieving lower back pain, a good maternity support belt will also relieve:
Abdominal muscle pain
Leg pain
Sciatica
Pelvic pain or weakness (PGP or SPD)
Hip separation pain
Lower back pain (lumbar pain)
Postpartum back, stomach, and pelvic support.
Speeding up postpartum recovery, especially after a cesarean delivery
Improving blood circulation
Maternity belt is more useful especially for those pregnant women who stand for long periods.
Designs of maternity belts available
1. Simple Pregnancy Belt (Simple Maternity Belt)
The first design is a simple one-piece belt, made from an elasticated material that usually fastens using Velcro or hooks and eyes. These tend to be slightly lower costs than the other two types of pregnancy belts available which make them a top choice for many moms-to-be.
They're great for back and tummy support if you've been experiencing a lot of aches and pains – especially lumbar pain and round ligament pain.
The simple maternity belt looks to be a more basic type but most of the time this will be enough to give support for your back and relieve the aches during and post-pregnancy.
Having used this during my pregnancy, I still continue to use it whenever I feel the lower back is aching.
Image below shows the commonly used Maternity belt: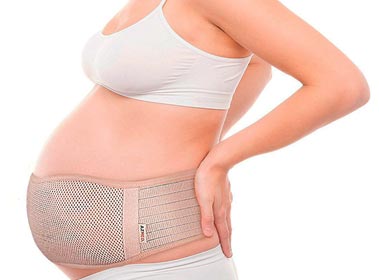 PROS and CONS
Pros
This model is helpful during pregnancy and post-pregnancy.
Simple design, easy to wear and remove.
Cons
Velcro strap may be itchy
Velcro strap may not be durable
May not be comfortable when sitting down.
2. Pregnancy Belt with Extra Support
The second type of design includes an additional strap that goes across your pregnant belly to provide some additional support and to keep the back brace in place.
There are a few different brands available but the one below has been rated one of the most comfortable support belts available by other moms. It also comes in sizes small, medium and large and three colors – beige, white and black. This would be a great choice for anyone who has to work standing up all day, for instance in a store or waiting tables. It will provide the extra support you need.
Image below shows the Maternity belt with extra support: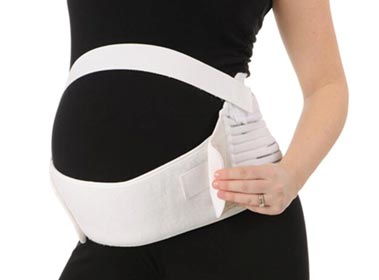 PROS and CONS
Pros
Additional abdominal support keeps the belt tight without adding extra pressure.
Different sizes available
Provides superior comfort and support
Cons
May take more time to wear and remove
This design will not be useful post-pregnancy.
3. Prenatal Cradle
Thirdly, we have the full prenatal cradles. A prenatal cradle maternity support belt is ultra-supportive and helps to spread the extra weight of pregnancy to other parts of the body such as the shoulders and upper back.
This brings relief from back pain and they are especially helpful if you are suffering from hip separation or pelvic girdle pain (PGP). A prenatal cradle can also be used after birth and is particularly good if you have undergone a cesarean section.
Prenatal cradles like the one below also offer vulvar support if you have Vulvar Varicosities (swollen veins in the vulvar area).
Image below shows Prenatal Cradle maternity belt: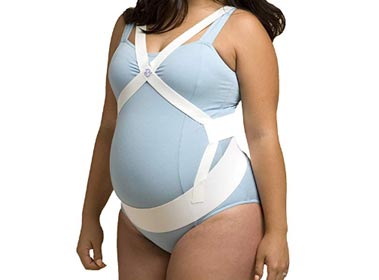 PROS and CONS
Pros
Ideal for all pregnancies
Great support while exercising
Available in all sizes
Cons
Difficult to wear and remove.
It's bulky
Directions to Use
Do not wrap the maternity belt too tightly around your body. The maternity belt should not interfere with walking or sitting. Do not wrap the maternity belt across the center of your pregnant belly.
Maternity belts shouldn't be worn for more than 2-3 hours at a time. This gives your body time to strengthen itself, while also providing relief in physically demanding situations.
How to choose a maternity belt
It's important to choose the right size of a maternity belt to fit your belly. The sizes of the maternity belts may vary during and post-pregnancy. Also later after belly shrinks, your maternity belt may no longer be tight enough to give you support for your back. In that case, you might need to buy a new one to fit your belly size.
Many women prefer Velcro because of how easy it is to use, but you might end up snagging your pants or shirts with it. Other maternity belts come with hook-and-eye closures, which is no picnic to navigate when your fingers are so swollen they look like sausages. You'll have to weigh your options to see which fastener you like.
While choosing a maternity belt, do not confuse it with a belly band. A belly band is mainly designed for proper coverage and to extend the life of your pre-pregnancy wardrobe. However, the added support to your lower back comes from a maternity belt only, especially during your third trimester.
The pros of maternity belts include
May help encourage proper posture. Maternity belts could help stabilize a pregnant woman's abdomen and lower back by taking some of the weight of her belly and by evening out her center of gravity.
Might lower the risk of falls. Maternity belts may reduce the risk of falls for pregnant women by stabilizing their pelvis and improving their balance.
Make it easier to exercise. According to the American College of Obstetricians and Gynaecologists, wearing a Maternity belt during the later stages of pregnancy may help make some activities, such as running or walking, more comfortable. A maternity belt may also help pregnant women avoid injury while exercising.
May help reduce some pregnancy aches and pains. Maternity belts may help alleviate some of the aches and pains that can occur during pregnancy by taking some of the belly's weight and helping stabilize the body.
The cons of maternity belts include
Unsuitable for prolonged use. Women should avoid wearing more constrictive garments, such as belly belts, for too long at any one time because they may decrease blood flow to the abdomen and growing baby.
It can be expensive. Many belly belts can be expensive, especially those that are more rigid or have thicker padding. As they play a functional role rather than a cosmetic one, belly belts should ideally be of reasonable quality and robustness.
Some available brands of maternity belt online in India
Tynor Pregnancy Back Support

AARAM Pregnant Woman Maternity Belt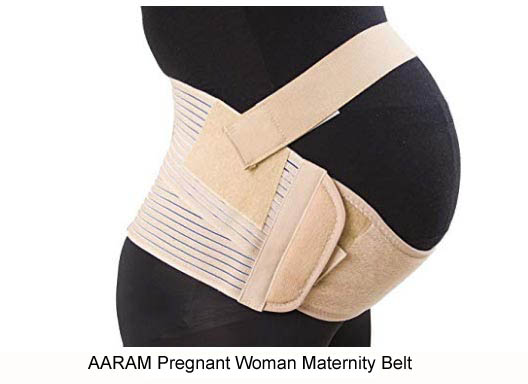 MeeMee Post Natal Maternity Support Corset Belt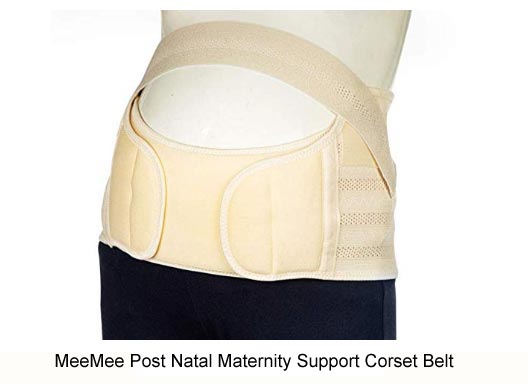 Grasshopr maternity belt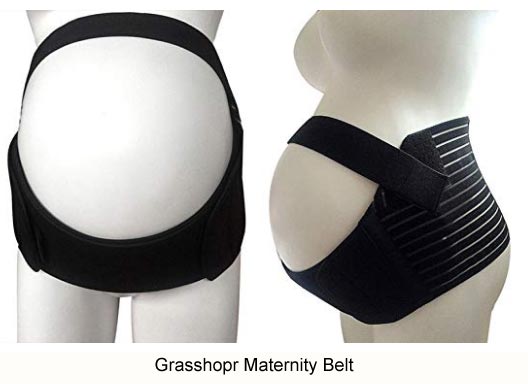 Arkmiido post-partum maternity belt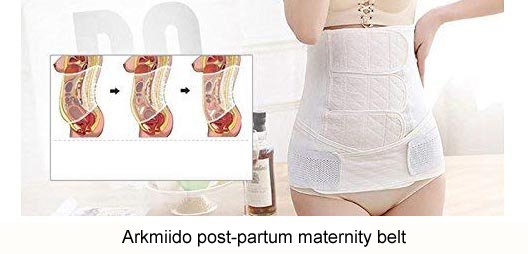 Dr. Divya has been pursuing Dentistry for about 5 years now. Endodontics and Orthodontics are her areas of interest and she holds a BDS degree from Govt. Dental College, Vijayawada, AP. Besides pursuing her career as a Dentist, she is passionate about Technical writing and is spending her free time in writing medical articles to bring awareness and share medical knowledge to the public.
Reviews
0

out of

5

based on

0

reviews.
Overall rating: