Before we study about Oxinium implants, an important aspect of knee replacement surgery involves the choice of the knee implant type. There are several aspects to consider in selecting an implant type such as the degree of motion supported, the type of metal alloy used and cost to name a few. For instance, a relatively younger patient who may wish to engage in physical activities may opt for high flexion implant. On the other hand, an elderly person who performs limited physical activities may be just fine with a normal implant that has a lower degree of motion.
Implant Durability
An equally important aspect of any knee implant is about its durability. The typical life of an artificial knee implant ranges between 15 to 20 years. As time passes by, the knee implant undergoes the normal wear and tear caused by a various form of stresses on the joint.
Given that the stress-induced wear and tear are to be expected, resulting in leakage of some metal debris into the joint area, it is important to choose metal alloys that are highly inert from biological aspects. A few such metal alloys are the Cobalt-Chromium and Oxinium.
Online advice from doctor
If there is no experienced doctor around you, or you are not satisfied with your treatment, you can consult with experienced orthopedic doctors in our Doctors panel. For this, you have to give some information about your problem and very few online consultation fees. Give your information through this form.
In the year 2003, Smith & Nephew introduced Oxinium™ or oxidized zirconium implants for joint replacement surgeries like total hip arthroplasty and total knee arthroplasty.4 The company has been awarded the prestigious ASM International 2005 Engineering Materials Achievement Award for the development of Oxinium, or Oxidized Zirconium for use as a joint replacement material to improve the performance and service life of total joint replacement systems.5
Oxinium Implant Structure
Oxinium is a metal alloy containing 97.5% Zirconium and 2.5% Niobium, which are two of the most biocompatible metals known till date. During the implant manufacturing process, it undergoes intense heat and oxygenation which allows Oxygen to be absorbed into the Zirconium metal. The outcome is a 5 micron thick ceramic surface with a core of zirconium alloy. The enhanced surface is a part of the metal substrate and not an external coating. This attribute gives Oxinium implants an excellent fracture toughness and wear resistance.6
The components of Oxinium knee replacement systems are femoral, tibial, and accessories. Furthermore, the femoral and tibial components are of two types; porous and non-porous.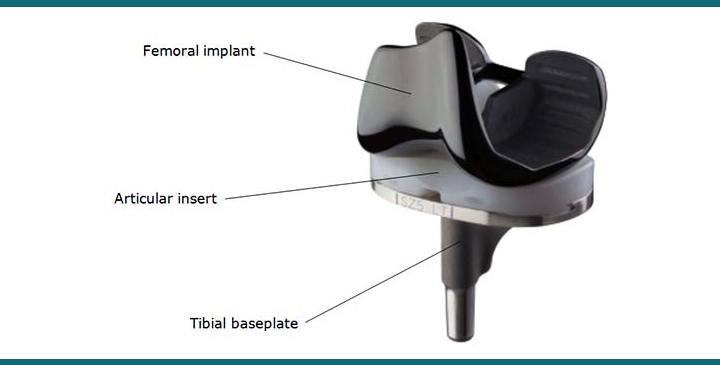 A range of Revision Knee Systems based on Oxinium is also available from Smith and Nephew for revision surgeries.

In recent years, orthopedic surgeons, including some members of the American Academy of Orthopedic Surgeons (AAOS), have recommended Oxinium as the material of choice, for total knee replacement surgeries.
Development of Oxinium Implants
Why were Oxinium implants developed? The primary reason for the long-term failure an implant, specifically in the form of aseptic loosening is due to the polyethylene wear. Therefore, Oxinium implants that have a hard but smooth surface, was developed to reduce wear and tear and thus provide a longer lifespan to an artificial joint.
In 2012, a study found that when the Oxinium implant was subjected to simulated conditions that are similar to the biomechanical stresses on the knee joint of an active and athletic person, it was observed that the wear was 55 percent lower in the Oxinium group compared to the CoCr group.8
It is important to understand the meaning of the simulated conditions.
In a simulated condition experiment, the implant is subjected to the biomechanical forces that are similar to those experienced inside the body. A simulated experiment is an in-vitro setting and cannot be directly equated to an in-vivo, or inside the body setting.
Error: Contact form not found.
Advantages of Oxinium Knee Replacement
As a patient, it is still worthwhile to know the claimed advantages of the Oxinium implant vis-à-vis other choices. Here are those.
Durability: Oxinium implants are durable owing to their hardness and high fatigue strength. It implies that these implants can withstand the sliding and rotating forces that a knee joint normally undergoes, during activity.
Wear resistance: An artificial knee joint has three components: a metallic femoral component; a tibial component, made of either metal or plastic (polyethylene); and a plastic patellar component. Over a period, as the femoral component, rubs over the plastic component, the plastic may start to wear out or disintegrate; leading to implant failure. The underlying hypothesis is that the ceramic surface in Oxinium implants attracts more lubricating fluid and remains smooth, reducing friction. Hence these implants are said to be wear and scratch resistant and longer lasting compared to other alternatives.
Biocompatibility: Inert metals like zirconium and niobium as its constituents, impart greater biocompatibility to the Oxinium knee replacement systems.
Medical Research on Oxinium Knee Replacement
In lab studies or also known as In-vitro studies, Oxinium is shown to have a lesser wear and tear relative to the more commonly used Cobalt-Chromium alloy. Lab results are based on the simulated motion of the knee joint over a long period.
In-vitro lab reports have been used by its manufacturer (Smith & Nephew) who sell the Oxinium implants to claim its longer life as a result of lesser wear and tear. These implants also sell at a premium of 20-25% over the Cobalt-Chromium implants. However, several research studies that studied the performance of the implants in an In-vivo or inside the body environment failed to find any significant differences from a period ranging from two months after surgery to as long as five years. Further, even Cobalt-Chromium implants can easily last from 15 – 20 years.
In 2012, an interesting randomized study was conducted by Ewha Womans University School of Medicine, The Joint Replacement Center, in South Korea; wherein, bilateral knee replacements were performed on 351 patients. Evaluation of pain and function in these patients was done after 7.5 years.
Either group, that is, the one with Oxinium knee replacement, and the other with cobalt-chromium (CoCr) knee replacement, showed a similar range of mobility, pain, joint function and treatment satisfaction. Similarities in the mean weight, size, and shape of aspirated wear particles, were also observed.
The findings of the above research suggested that there were no noticeable differences in the performance of the Oxinium Knee Implant vis-à-vis CoCr Knee Implant. In particular, the research found that the rate of wear of the polyethylene component that sits between the femoral and tibial plane was similar in the two cases.
Considering that Oxinium implants cost higher than the CoCr implants, the research failed to find any justification for using the higher cost implant without any clear and visible benefits.
In 2011, another study analyzed the wear resistance of oxidized zirconium implants. Although oxidized zirconium exhibited better wear resistance as compared to cobalt-chromium in-vitro, there was no significant difference between the two on clinical or radiographic evaluation, 5 years post-surgery.7
An in-vitro environment is a laboratory environment where the implant is subject to stresses and forces that are similar in nature to the biomechanical forces in a human knee joint.
In addition, patients had no preference to oxidized zirconium over CoCr implants. No adverse effects were reported with oxidized zirconium prosthesis, after five years. The findings have established Oxinium as a safe choice.5
Should you pay for the extra cost of Oxinium Implants?
The benefits that are associated with Oxinium but not proven by research include the following:
Less than 0.0035% detectable Nickel, a metal that causes a reaction in some patients.
Ceramic coating over metal resulting in lesser wear and tear, hence longer life.
No known adverse information related to biocompatibility or other complications.
20% lighter weight compared to Cobalt-Chromium
An interesting research study analyzed forty patients at the North Sydney Orthopedic and Sports Medicine Center, who had undergone knee replacement in both legs. They had one knee implant with Cobalt-Chromium, and other was Zirconium. 1
Patients were assessed at multiple stages after surgery i.e. five days, six weeks, one, two and five years. Standard outcome measures were evaluated including the WOMAC score, Knee Injury and Osteoarthritis Outcome Score and British Orthopedic Association patient satisfaction score. Results indicated no significant difference in clinical, radiographic or subjective outcomes at any stage. According to the study, 38% patients preferred the Cobalt-Chromium knee compared with 18% who preferred the Zirconium knee, with 44% patients having no preference for either. The study also demonstrated that both Cobalt-Chromium and Zirconium did not produce any adverse effects.
Besides the wear and tear of the metal components, another component which is subject to wear and tear is the polyethylene component that acts as acushion between the two metal heads. Damage to the polyethylene can result in various other impacts to the knee. Broken particles from the polyethylene can induce foreign body particle inflammation in the joint, which can then lead to Osteolysis or weakening of the femur or tibial bone head.
Therefore, a metal surface that can lead to lower polyethylene wear can be beneficial. However, again, in-vivo studies have failed to show any significant differences in the polyethylene wear between Oxinium and Cobalt-Chromium. 26 pairs of PE component were retrieved from patients who had undergone bilateral knee replacement, with one leg having a Co-Cr implant and other having Oxinium. The retrieved PE components were analyzed for damage assessment, wear assessment and radiographic assessment. All PE components displayed in-vivo damage such as grooving, indentation and pitting regardless of the implant type. No significant differences were noted in any of the three assessment aspects between Cobalt-Chromium and Oxinium implants. Another study also suggested the similar conclusion that there was no difference in the In-vivo PE component wear and tear between Co-Chromium and Oxinium implants. 3
Can Oxinium be worse than CoCr?
This question has been now satisfactorily answered by several studies. For instance, a 2014 study reported a 10-year follow-up for patients having total knee replacements with oxidized zirconium femoral components. These prostheses had excellent survival rates (97.8%) and good clinical and radiological results, ten years post-surgery.6
The above study indicates the overall safety of the Oxinium implant as an alternative implant choice.
Adverse Effects of Oxinium Knee Replacement
Much like other implants, Oxinium Implants pose similar risks. In other words, these are risks that apply to all implant types, to a varying degree.
Foreign-body reaction: These implants may be identified as a foreign-body by the human immune system, causing localized bone resorption, which may lead to complications.
Fracture or loosening of implant components: This can happen due to strain, trauma or improper alignment of the implant.
Dislocation or subluxation of implant: These can happen due to trauma or improper implant selection/positioning.
Metal sensitively/allergic reactions with Oxinium knee replacements are rare.
Failure of porous coating/hydroxyapatite coating bonding may result in separation of the ceramic layer, in certain cases of Oxinium knee replacement.
Wear and tear: Wear and tear of the articulating components have been reported with Oxinium knee replacements. This may shorten the longevity of this prosthesis, leading to an earlier revision surgery.
The patellar components in Oxinium knee replacements are made of polyethylene. In 2008, a study was conducted on macrophage response to polyethylene degradation products, in-vitro. Wear debris of polyethylene in the tissues surrounding the prosthesis causes the release of inflammatory mediators, leading to bone resorption (osteolysis), aseptic loosening of the implant, and implant failure.
Oxinium vs Cobalt-Chrome Prosthesis: Twelve Year Outcomes
A cohort analysis in Feb 2016 investigated the long-term outcomes of Oxinium vs Cobalt-Chrome (Co-Cr) implants in total knee replacements (TKR). Let's look into some details of the analysis.9
Outcomes
Genesis II design of Oxinium implants (Smith & Nephew, Memphis, TN, USA) was used in the study. Cohorts selected had the same implant design, method of fixation, and polyethylene components of the implants.
Data of percent revision and revision diagnosis was obtained from Australian Orthopaedic Association National Joint Replacement Registry, between September 1999 and December 2013.
It was observed that the revision (surgery) percentage of Oxinium and Co-Cr implants were similar. Furthermore, the rate of revision due to loosening or lysis of the implant or due to non-infective causes did not differ among age groups.
However, the percentage of revision was higher in subjects above 75 years of age, for those who required revision due to loosening or lysis of the implant.
It was thus concluded that Oxinium based implants did not exhibit lower rates of revision surgeries when compared to Co-Cr implants, across age groups with TKR.
So what's the key takeaway?
On the basis of research carried thus far, Oxinium has failed to meet the promises made for lesser wear and tear in the In-Vivo studies. At the same time, Oxinium implants have also not demonstrated any adverse effects and are considered to be as safe as the Cobalt-Chromium implants.  It is ultimately for you and your surgeon to decide, but research does not indicate any extra benefit for the extra cost incurred in having an Oxinium implant. 1, 2, 3
Conclusion
Today, knee replacement surgeries are not merely restricted to the elderly. The common factors leading to total knee replacements in younger patients are accidents, obesity, childhood deformities, and infections. Among the older population, osteoarthritis, rheumatoid arthritis, degenerative arthritis, and anterior or posterior cruciate ligament damage, are the most common causes of knee replacement surgeries.
It is important to ascertain, whether a knee replacement surgery is necessary. Ideally, a surgical approach is recommended for patients who are unable to accomplish normal daily tasks like walking, and in those, where conservative treatment measures like anti-inflammatory drugs, braces, physiotherapy, and steroid injections have failed to provide pain relief.
The selection of implant is an important decision. While other implants may last around twenty years or more, Oxinium implants are claimed to come with a longer shelf-life. Therefore, it is advised for patients who are young of age or have a metal allergy and desire to have a very active lifestyle after the surgery.
However, Oxinium implants are more expensive. While it is difficult to provide exact numbers, an Oxinium implant may cost more by Rs 70,000 to Rs 80,000 compared to the other implant choices. Since available research has not been able to provide evidence of it's superior clinical, symptomatic or functional advantages over CoCr, it may be prudent to discuss other implant options with your doctor.
Eventually, much like many decisions that a patient and the doctor has to make together, the pros and cons of using one type of implant versus the other need to be assessed, as per the requirements and economic affordability of the patient.
For more information, do get in touch with us through email at help@healthclues.net or message us on WhatsApp at +91-9640378378, or submit your question below.
Have a question?
Error: Contact form not found.
References
Five-Year Comparison of Oxidized Zirconium and Cobalt-Chromium Femoral Components in Total Knee Arthroplasty: A Randomized Controlled Trial;Hui, Catherine; Salmon, Lucy; Maeno, Shinichi; Roe, Justin; Walsh, William; Journal of Bone and Joint Surgery, Volume 93 (7): 624 – Apr 6, 2011
In Vivo Wear Performance of Cobalt-Chromium Versus Oxidized Zirconium Femoral Total Knee Replacements; Gascoyne, Trevor C.; Teeter, Matthew G.; Guenther, Leah E.; Burnell, Colin D.; Bohm, Eric R.; The Journal of Arthroplasty, Volume 31 (1) – Jan 1, 2016
No difference in vivo polyethylene wear particles between oxidized zirconium and cobalt–chromium femoral component in total knee arthroplasty; Yukihide, Minoda; Kanako, Hata; Hiroyoshi, Iwaki; Mitsuhiko, Ikebuchi; Yusuke, Hashimoto; Knee Surgery, Sports Traumatology, Arthroscopy, Volume 22 (3) – Mar 1, 2014
Smith and Nephew introduces new hip joint product. (2003, February 4). Retrieved from http://www.bizjournals.com/memphis/stories/2003/02/03/daily12.html
Engineering Materials Achievement Award, ASM International. (2011, December). Retrieved from http://www.asminternational.org/documents/10192/5975044/engineeringmaterialsachivement_recipients.pdf/e3534129-18cf-4ce2-8609-6fbc28affdaa
Tribe, A., Malek, S., Stammers, J., Ranawat, V., Skinner, J.A. (2013). Advanced wear of an Oxinium™ femoral head implant following polyethylene liner dislocation. US National Library of Medicine National Institutes of Health, 95(8), e133-e135.
Hui, C. MD, FRCS(C), Salmon, L. Ph.D., Maeno, S. MD, Ph.D., Roe, J. FRACS, Walsh, W. Ph.D., Leo, P. MBBS, FRACS. Five-Year Comparison of Oxidized Zirconium and Cobalt-Chromium Femoral Components in Total Knee Arthroplasty. The Journal of Bone and Joint Surgery, 93 (7), 624-630. http://dx.doi.org/10.2106/JBJS.I.01753
Heyse, J. T., Haas, S. B., Efe, T. (2014). The use of oxidized zirconium alloy in knee arthroplasty. Journal Expert Review of Medical Devices, 9(4), 409-421. http://dx.doi.org/10.1586/erd.12.30
Dr. Kaleem Mohammed graduated as a Bachelor of Physiotherapy in 2014 from Deccan College of Physiotherapy, affiliated to Dr. N.T.R. University of Health Sciences, Vijayawada, India. Dr. Kaleem is an expert at handling physiotherapy needs of patients suffering from orthopedic and spinal conditions and post-surgery rehabilitation. Dr. Kaleem is associated with HealthClues since its inception where he facilitates diagnosis and advanced consultation with senior doctors. He is also a medical researcher and prolific writer who loves sharing insightful commentaries and useful tips to educate the patient community about fitness, treatment options, and post-treatment recovery.
Reviews
5

out of

5

based on

1

reviews.
Overall rating: