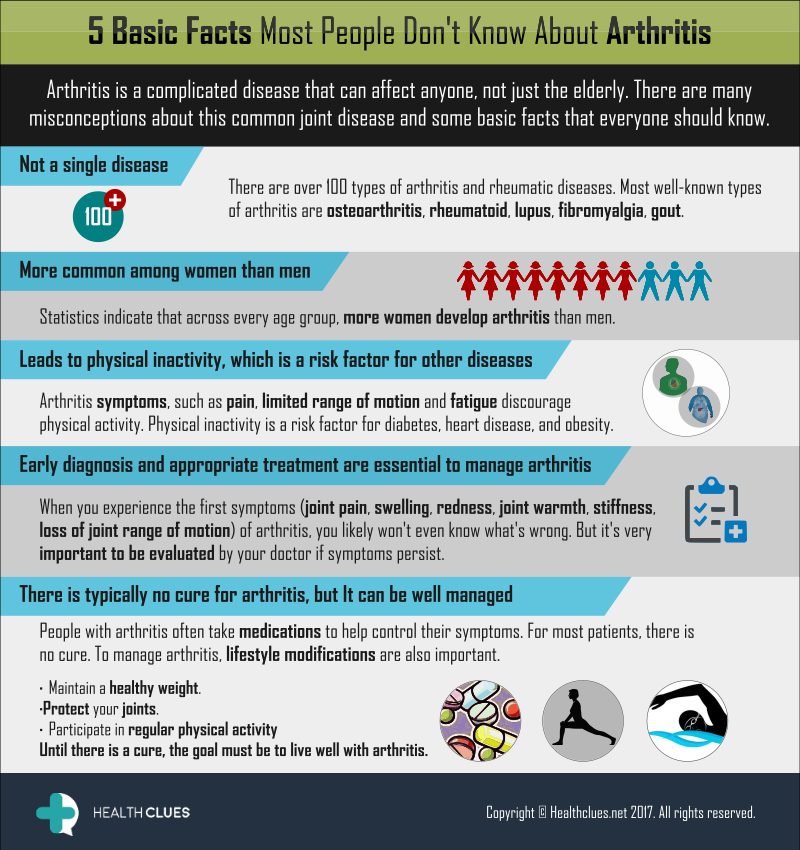 Arthritis is a complicated disease that can affect anyone, not just the elderly. There are many misconceptions about this common joint disease and some basic facts that everyone should know.
Is Not a Single Disease
There are over 100 types of arthritis and rheumatic diseases. A handful of those are prevalent and, therefore, the most well-known types of arthritis. (osteoarthritis, rheumatoid arthritis, lupus, fibromyalgia, gout)
Is More Common Among Women than Men
Statistics indicate that across every age group, more women develop arthritis than men
Leads to Physical Inactivity, Which Is a Risk Factor for Other Diseases
Arthritis symptoms, such as pain, limited range of motion and fatigue discourage physical activity. Physical inactivity is a risk factor for diabetes, heart disease, and obesity.
Early Diagnosis and Appropriate Treatment Are Essential
When you experience the first symptoms (Joint pain, swelling, redness, Joint warmth, stiffness, Loss of joint range of motion) of arthritis, you likely won't even know what's wrong. But it's very important to be evaluated by your doctor if symptoms persist.
There Is Typically No Cure for Arthritis, but It Can Be Well-Managed
People with arthritis often take medications to help control their symptoms. For most patients, there is no cure. To manage arthritis, lifestyle modifications are also important.
Maintain a healthy weight.
Protect your joints.
Participate in regular physical activity
Until there is a cure, the goal must be to live well with arthritis.
Reviews
4

out of

5

based on

1

reviews.
Overall rating:
★★★★☆
"
The information you've shared in this blog is highly remarkable. Thanks for sharing such quality information.
"